Alan Beach and the New Vision Party Win Village Election
The Lynbrook Village elections were held at the Lynbrook Public Library on Mar. 19. Members of the New Vision Party (NVP)  were reelected to keep their positions on the board.
In the mayoral race, NVP candidate Alan Beach won with 3,330 votes while Hilary Becker received 974. In the race for trustee, Robert Boccio (NVP) received 3,045 votes, Ann Marie Reardon (NVP) had 2,971, Steven Liguori had 1,031, Antoniella Tavella had 881, and David O'Neill received 626 votes.
Beach, Boccio, and Reardon were sworn in on Apr. 2. Additionally, Beach appointed Michael Hawxhurst as his deputy mayor; Becker, the former deputy mayor and opposing mayoral candidate, became a trustee. Beach is hopeful about the new board: "We have a phenomenal new deputy mayor [Michael Hawxhurst] who brings decades worth of experience from the financial services industry and is a trusted leader within our community. Additionally, Ann Marie Reardon and Robert Boccio bring diverse skill sets to the board and are energized and ready to get things done."
The campaign for this election was largely controversial. Mail-outs were sent by each party about the other, some calling their opponents liars and frauds along with other scathing accusations. Several letters were also written through the Long Island Herald about the campaign. Village board meetings often became intense and hostile over disagreements about the election and the foul-play each side employed. Beach commented, "The disappointing part of any campaign is watching your opponent turn negative. It was unfortunate to see them constantly attack our team instead of focusing on how they could make Lynbrook better." Similarly,  Hawxhurst appears to be exclusively concerned with the slander utilized by the Preserve party (NVP's rival), "Mayor Alan Beach and the team brought together a large group of people who cared about this community and worked hard to get their message out and explain his ideas for this great village. I think the results of the election show what people thought of the tactics of the Preserve Lynbrook Party."
Despite the animosity surrounding the election, residents and board members hope to settle their disagreements and make a combined effort to move forward and benefit Lynbrook. Becker commented, "I look forward to working with the board to make sure that all of our future decisions are what is best for the village and our residents. The campaign was an intense and difficult time for everyone involved; however, we must all move forward and work together." As Becker explained, he believes "the residents of Lynbrook deserve the best" and he promised to  "continue to do all that I can to make sure that the board works together and makes decisions that help our community grow and prosper." Hawxhurst added, "This is a community who cares about Lynbrook and what goes on in this Village. [The community] cares about their neighbors and pitch in and help out when they see a problem."
Pat Alonge, a Lynbrook resident who came to several board meetings to ask questions prior to the election, is "happy with the outcome of the elections" and has "found Mayor Beach, Mr. Boccio, and Mrs. Reardon to be trustworthy representatives of the village."  Alonge is hopeful that both sides will flawlessly move forward and work together: "People with different viewpoints can work together to find common ground and ultimately solutions if they are willing to have an open dialogue, treating each other and their ideas with respect. I hope residents stay involved and share their hopes, concerns, observations, and suggestions with our elected officials. I hope to do the same."
Members of the New Vision Party proclaimed that they were grateful for the voter turnout and look forward to working to make Lynbrook a better place. Beach exclaimed, "We worked hard to demonstrate why we were the best choice to lead the village. While I never doubted our message and record of good government, it's a humbling experience when you receive 77% of the vote. Thank you, Lynbrook!" Reardon also said, "I am proud to be able to continue to serve our resident as a trustee and will continue to make Lynbrook the best place to live, work, and raise a family."
About the Contributor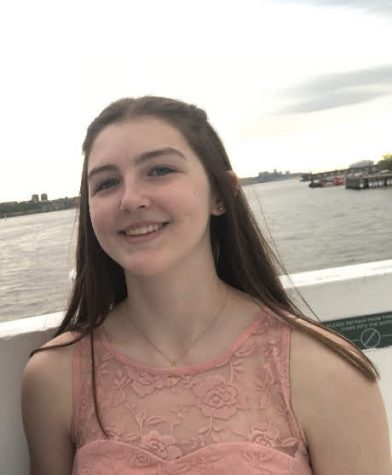 Emily Bergin, Editor-In-Chief
I am the editor-in-chief for Horizon.com and a member of the Class of 2021 at Lynbrook High School.  In my free time, I like to swim, run, and play music.