Students Selected for Annual Nassau All-County Art Exhibit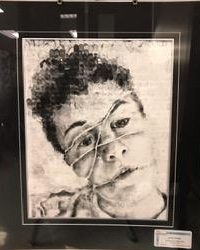 Gifted art students were selected to represent LHS for the 15th Annual Nassau All-County Art Exhibit on May 10 at Farmingdale State College. The exhibit featured artwork from students across Long Island. Each student was chosen by his/her art teacher because of his/her hard work and skills. Students were honored for the opportunity to showcase their artwork. "I did not think of my art as high standards, so I thought it was pretty cool to be chosen," said Sarah Denker, a sophomore. Stella Kaspryk, a freshman, commented, "It made me happy to be a part of the exhibit; it was my second year in a row."
Vincent Lentini, art chairperson and teacher, selected three of his students to represent LHS in this exhibit. These students were Amintta Ragavanis, freshman; Stella Kasprzyk, freshman; and Sarah Denker, sophomore. "I picked these students because I liked several of their pieces and thought they were hardworking and deserving of being in this exhibit. They also seemed to love the subject," stated Lentini. After careful deliberation, the students and teacher chose the student's best work of art for display. "I liked many of my pieces, but the one I chose was the most sophisticated. It also showed off my personality, and it was a self-portrait," Denker expressed.
Once the artwork was sent out to Farmingdale, event staffers started to unpack and display all the pieces on the walls. The college showcased the art in sections based upon grade. The Artwork from students in kindergarten through 12th grade was featured. Some 12th-grade art students even got scholarships based upon their pieces.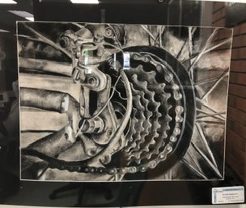 The exhibit showcased some exceptional work from students from across the island. The event raised a new question to consider: "What attributes make a good artist?" Lentini stated that "work ethic, creativity, passion, and skill are what make a good artist." Denker commented that "hardworking and practice" are what make a good artist. Denker added, "I was never good at art until I practiced. I believe that talent means nothing unless you practice." Stella also added that "confidence, patience, and realizing you are not going to like everything you make is what makes a real artist."
While the exhibit was an overall success, some questioned  how it was organized. Denker stated, "The exhibit was not organized properly. It was difficult to find pieces. The artwork should have been grouped by school instead of grade; other than that, it was fine." Stella added that "the space should have been bigger. It was very crowded."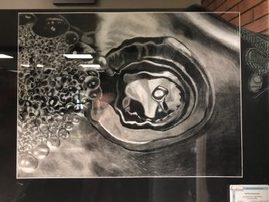 The event was an opportunity for developing artists to showcase their work and be recognized for their talent. Most of the artwork at the event showcased skill and a passion for art.