A Complicated Apartment Complex Proposal
After much debate on whether Lynbrook would or would not benefit from the  construction of a new five-story apartment building, the pitch to create this said
apartment complex delivered by Farmingdale-based Terwilliger & Bartone Properties was unanimously voted down by Lynbrook Mayor Alan Beach and the board of trustees on Nov. 19.
The 200-unit apartment complex would have been located on the southwest corner of Earle Avenue and St. James Place. If granted permission to build the $75 million  complex, the developer had also planned to construct and fund a $10 million, 400-space parking garage on top of what is currently a commuter parking lot at Broadway and  Langdon Place and had hoped to establish a 9,000-square-foot park on Broadway.
This proposed complex, named the Cornerstone at Lynbrook, would have featured a mix of two-bedroom, one-bedroom, and studio apartments. The luxury apartment complex was expected to generate $500,000 in property taxes each year along with 239 construction jobs. Despite this, some residents expressed concerns that the complex would change the entire nature of Lynbrook, overcrowding schools and increasing what they described as already poor traffic conditions.
Residents had even started a petition, asking officials to reject Terwilliger & Bartone's proposal. The same residents who had opposed the construction of a gun range in  Lynbrook had spearheaded this enmity, basing much of their information off of a similar project that was completed in Rockville Centre (the Avalon). Thirty-seven students from the Avalon had enrolled in Rockville Centre's schools after the opening of the complex and 18 possible other students contribute to the tax caps. Adversaries of the Cornerstone complex, argued Lynbrook would follow a similar pattern, overcrowding the district's schools, "My main concern is the massive influx of students that would have came [if the construction was approved]… I'm just too concerned with how this would affect class sizes at West End [elementary school]," said English teacher and resident Carla Gentile.
"I'm all for enriching the town, but not when compromising quality education is the price we would have to pay," continued Gentile.
Contrastingly, some argue there are too few multiple-bedroom apartments that would have been built to pose much of a threat in terms of increased enrollment to Lynbrook
Schools. Additionally, some do not view an increase in enrollment at the local schools as much of a threat. "I would hope the school district would respond appropriately. Rather than increasing class size, I am hopeful they would hire more teachers, if need be," said resident and Physical Education Teacher Dorothy McCarthy.
Those in favor of the complex also acknowledged the undoubted boost the apartments would give to the local economy. "I definitely think they should have made [the  complex]. It would increase the property value and beautify the town. I can't see why people were against it. It would be great for all the residents of the building and the local businesses. It would boost consumer confidence and Lynbrook's local economy would surely improve," said junior president Ethan Renz.
Another issue long debated was the size of the building. Those opposing the construction argued five-stories is far too tall for a town like Lynbrook and would look aesthetically unappealing. Village officials as well believed the proposed building was too large in scope and had asked Bartone to redesign his plan; however, Bartone refused. Resident
and history/psychology teacher, John Cornicello, however, wished Barton had  reconsidered, "I think Bartone should have redesigned his original pitch. A complex like
this could revitalize Lynbrook, but I don't think that specific one did the job."
As Bartone recognized the growing opposition to the plans, meetings about the complex were repeatedly postponed, and the proposal itself was eventually cancelled. Residents argued the plans were "not transparent" and they were not provided enough information. Residents had rallied outside the village hall in Lynbrook on the afternoon of Nov. 19,
and the application was rejected later that night.
While Cornerstone was not well accepted with its initial pitch, it can possibly be revised and return sometime in the future. McCarthy stated, "A revised pitch would be a good thing. Lynbrook is the greatest place to live, and if you give young professionals more of an opportunity to live and work here, that would be a great start. I don't see how making this town more accessible to enjoy could be a bad thing. Lynbrook has it all. Attracting
new people can only help it. Lynbrook is the ideal town."
About the Writer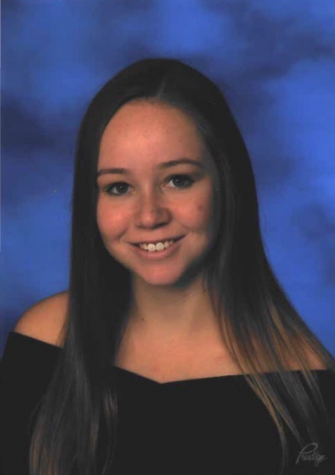 Jane Hoeflinger, Editor-in-Chief
I am a member of the Class of 2020. In my free time, I write articles for Horizon. I am the editor-in-chief for the print edition for 2019-2020.