Lynbrook Basketball's Annual Friendship Games
Hang on for a minute...we're trying to find some more stories you might like.
As the basketball season is well underway, Lynbrook hosted its annual Friendship Games on Saturday, December 22. All four high school teams competed against cross-town rival East Rockaway. The two opponents split wins, 2-2, with Lynbrook's JV girls and varsity boys coming out on top. The JV boys and varsity girls both lost in thrilling matchups; both games came down to the last second with Lynbrook losing within three points. The dedicated Owls' fans came out to support for the event. "The Barn" was packed with students, families, and Lynbrook residents for the exciting, competitive day.
The varsity girls' team lost only its second game in a close contest. With a score of 37-34, the two opponents were battling until the final second. Freshman Kyla Nembach nearly tied the game with a last-second three-point shot. Nembach led the team in points with 10, along with junior Sara Bahri. Nembach currently leads the team in scoring this season, averaging 11 points per game and a season high of 14 against Valley Stream North. The freshman also leads the team in three-pointers, recording seven on the season. Bahri, three-year varsity player, tallied her season high in points and her first three-pointer. The Lady Owls put on a shooting clinic, gaining 12 out of 34 total points on three-point shots. Sophomore Leanna Sullivan led the team with two shots made from beyond the arch. Sullivan was third on the team in points with six. "It was a great atmosphere. Even though we lost, we played hard and it was a great day," Sullivan commented.
The Lady Owls defense was led by sophomore Kayla Schwizer. Schwizer led the team in blocks, tallying six in the game. The sophomore also grabbed several rebounds. She leads the team in blocks this season. Schwizer stated, "I gave all the effort I could. Our defense played really well, and we were proud of our performance." Bahri had a stellar defensive game as well, leading the team in rebounds (10). Nembach had two steals, proving her worth on both sides of the court. Although, the team lost, the defensive performance was impeccable. The girls' record downgraded to 5-2.
The varsity boys' team gained its sixth win of the season. The team was led by senior Rylan Blondo. The senior had an all-around fantastic game. Blondo scored 23 points, tallied five assists, and added four three-pointers. He averages 27.1 points per game, placing him second in Nassau County in scoring. The team was not shy from beyond the arch, earning nine total three-pointers. Senior John Donaldson accounted for three of those shots, tallying 11 points in just the first quarter. Donaldson finished with 15 points and five assists. Senior James Montgomery added eight points. Montgomery is second on the team in scoring, averaging 13.4 points per game. Sophomore Michael Frank added four points and one three-pointer as well. The Owls' shooting success has powered its offense throughout the season. Frank commented, "We had one of our best games shooting wise."
Montgomery led the strong Owls' defense with 10 rebounds. He is first on the team in rebounds this season, recording double-digit numbers in four out of seven games. Standing at 6'5", Montgomery is a rebounding powerhouse. Blondo added 8 rebounds and a couple steals. Donaldson also had a good day on the glass, tallying 7 rebounds. Senior Dylan Herlihy had a breakout defensive performance with 6 rebounds. Frank added two steals. The Owls' domination on the boards led them to an overpowering 63-40 win. This win improved the team's record to 6-1.
Overall, it was a great day for Lynbrook basketball. Although the varsity girls' team did not get the result it desired, the team had a solid performance. With young players such as Nembach and Sullivan, the team looks like it has a bright future. The varsity boys' team had a fantastic game, winning by a large margin. Blondo, Donaldson, and Montgomery showed just how much senior leadership has benefitted this team. The Friendship Games was another successful day for the Lynbrook Owls' basketball program.  

About the Writer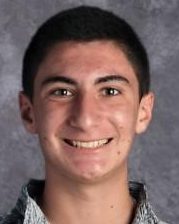 Joseph Giovinco, Contributor
I am a sophomore at LHS. I play football, lacrosse, and run track. I am in Key Club and Student Government.