Avengers: Infinity War Review
Hang on for a minute...we're trying to find some more stories you might like.
I had been anticipating Avengers: Infinity Wars for years before I saw it. Patience was non-existent; I wanted to see it after I saw Captain America: Civil War. Now, after I have seen it, I am amazed at the way Anthony and Joe Russo, the directors, played out the story. Avengers: Infinity Wars may be one of the best and most shocking movies of all time. Before I begin, I must note that I may mention some spoilers!
Avengers: Infinity Wars chronicles the quest of the Avengers and Guardians of the Galaxy fighting Thanos, a mad titan who wants to wipe half the population of the universe out of existence to balance it out, thinking that overpopulation is the root to all the universe's problems. Characters such as Tony Stark/Iron Man, Dr. Stephen Strange, Peter Quill/StarLord, Drax, Peter Parker/ Spider-Man, Gamora, and Thor must fight Thanos to make sure he does not get all six of the Infinity Stones, five of which have previously been seen in other Marvel Cinematic Universe (MCU) movies.
After watching this cinematic marvel, I walked out of the theater crying my eyes out over what I just saw. I was in shock. "I hated that it ended on such a cliffhanger," says freshman Emily Begin. I call this the most shocking ending of all time (my dad later scolded me for saying this after not watching The Sixth Sense or The Crying Game). I could not get over what the Russo brothers had done. They made an ending that almost no one would expect. In a shocking twist, some of the most beloved characters were gone. "It was extremely surprising," said sophomore Julianne Maselli; "… it was a bold move by Marvel."
The Russo brothers made something beautiful with an ensemble cast of almost 70 characters. However, the movie was well balanced because not too many characters were in each scene, and there were some quiet moments alongside the explosions of energy. If it was any other movie, it may have felt like some characters and storylines were out of place because everyone in the movie (except Thanos) had less than 20 minutes of screen time. It may have seemed like some characters were on screen a lot, but in reality, the intervals were only about a minute long each time the characters appeared.
Excellent acting (and hopefully possible Oscar nominations) come in the form of Josh Brolin, who portrayed Thanos; Robert Downey Jr. (Iron Man/ Tony Stark); Zoe Saldana (Gamora); Benedict Cumberbatch (Dr. Stephen Strange); Paul Bettany (Vision); Tom Holland (Peter Parker/Spider-Man); Chris Pratt (Peter Quill/Star-Lord); and Chris Hemsworth (Thor). Brolin powerfully captured Thanos' passion for collecting all of the stones as he forged a path of destruction through the MCU. After collecting one or two stones, he would send out his "children" (children being used very loosely) to collect others. Moreover, Brolin's performance was so good that there were moments where one could possibly feel sympathy for the villain. "Thanos was well represented from the comics," Maselli also added. The dynamic among Downey Jr., Cumberbatch, Holland, and Pratt was amazing, constantly bouncing lines off each other.
Bergin continued saying, "I liked it so much because it was so good, and the characters were so good together." Freshman Angel Duran agreed adding, "I was very satisfied with the movie. The ending is what did not satisfy me."
I like that even though there was a darker theme (i.e., the possibility that half the population of the universe would be wiped out), there was still comedy. Some of the best lines could be attributed to Downey Jr., Dave Bautista (who does a hysterical job as Drax), Chris Evans (also known as Steve Rogerr/Captain America), Hemsworth, Bradley Cooper (Rocket Raccoon), Pratt, and Holland. Even more impressive, most of the comedy was improvised, and it brought happiness to a rather dark film. Some lines have become iconic, such as Tony Stark telling Peter Parker while talking to Dr. Strange "the adults are talking," and during a confrontation Drax telling Parker, Stark, Strange, Star-Lord, and Mantis, "I'll do you one better. Why is Gamora?" Most of Holland's comedic parts came from the fact that he is playing a 15-year-old naïve kid, contrasted by Bautista, who just has a good sense of humor.
The scenery in the movie was beautiful, and the storyline shifted from Wakanda, where some Avengers such as Black Panther, Captain America, Black Widow, Thor, Rocket, Groot, and Bruce Banner were fighting the "children" of Thanos, to the planet Titan, where some of the Guardians of the Galaxy, Iron Man, Spider-Man, and Dr. Strange were fighting Thanos himself. Each shift reset the mood and portrayed a magnificent scene.
Fans like myself have agreed that this is one of the best MCU movies yet. Infinity Wars has also broken many box office records. Not only is it the fourth highest grossing movie of all time within three weeks of it being released, Infinity Wars also broke the record previously held by Star Wars: The Force Awakens for the fastest movie to reach one billion dollars in box office sales, and, has biggest opening weekend.
The sequel, the yet unnamed Avengers 4, is scheduled to be released on May 3, 2019. "I am very excited for Avengers 4," said Duran. "I cannot wait for them to continue the story," he added. The anticipation is building because of the shocking ending of Infinity Wars.
Infinity Wars was a well-made film, with a real sense of suspense, making fans crave more.

About the Writer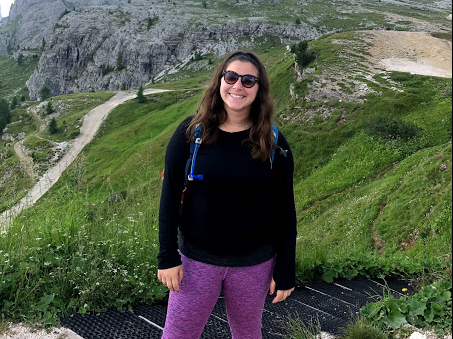 Tess Rechtweg, Photography/Graphics
Hi! My name is Tess Rechtweg. I love photography and film, and I hope to pursue this in the future.