Founders' Day
For over 100 years, the National Parent Teacher Association (PTA) has been working towards "bettering the lives of every child in education, health, and safety." McLellan Birney and Phoebe Apperson Hearst founded the organization in 1897 in order to eliminate threats that menace children, beginning a nationwide campaign.
Each year, Founders' Day commemorates the legacy and work of PTA founders and renews the commitment of the PTA to remain a strong voice for children, an applicable source for parents, and a proponent for public education. The Founders' Day celebration, which took place on Feb. 8, was a ceremony honoring teachers and members of the Lynbrook community who embody characteristics of their founders and demonstrate this year's theme: "Work hard, dream big, and never give up."
Among this year's 14 honorees, were three LHS teachers: Gretchen Hofmann, Danielle Reinert, and Ellen Restivo. "Lynbrook High School is so lucky to have Mrs. Restivo, Ms. Hoffman, and Ms. Reinert as a part of the staff because they love their jobs and their students. For good teachers, education is a calling, and for these three professionals, they demonstrate every day, that it truly is," said Principal Joseph Rainis.
Restivo received the Honorary Life Membership Award from Lynbrook Special Education Parent Teacher Association (SEPTA) for her hard work and dedication throughout the 18 years she has been teaching at LHS. Presenter Mindy Ross-Knaster discussed Restivo's many roles and actions in a movement to better the Lynbrook community including pioneering Self-Directed Individual Education Plans (IEPs), helping to develop Integrated co-teaching programs, being an essential part in introducing Strategic Instructional Models (SIMs) to LHS, mentoring a new special education in the district, and "acting as a key trainer for colleagues using NearPod, an interactive teaching tool with technology which impacts all students."
Also honored by the Lynbrook High School PTA was Gretchen Hofmann. Hofmann was thanked for her work as a ninth grade earth science teacher, beginning in 2006, and inspiring students to "work hard, dream big, and never give up." Hofmann was complimented on her immense devotion to students and infectious positivity. Principal Rainis praised Hofmann on her ability to plan lessons that inspire students, her readiness to provide countless hours of extra help, and her willingness to dedicate extra time to plan labs and demonstrations. In addition to her impact as a teacher, Hofmann was also credited as being an advisor to the chess club, volunteering as a chaperone for class night, and acting as a server at the annual senior dinner. When asked about the award Hofmann stated, "I was very touched and honored when I first heard I was receiving the award, and I would like to congratulate all of the other honorees."
The third to be honored by the Lynbrook High School PTA was Danielle Reinert. Reinert was recognized for her impact on students' lives that she made in her many positions in the Lynbrook district, including, seventh grade American history, ninth and tenth grade global history, government, sociology, and psychology teacher. Reinert was credited for her immense energy that motivates and excites children in regards to her lessons. Reinert was also commended for her substantial involvement with clubs and activities. Reinert has assisted with Facing History and Ourselves Club, been the START club adviser for the past two years, been a yearbook adviser for five years, a class advisor for seven years, and is helping to launch Girl Up club. In response to the award, Reinert said, "I was both surprised and so honored they would choose me. LHS is a special place to work at and be a part of."
This year's annual event was run and organized by Lorainne Quagliozzi. Quagliozzi stated, "Each honoree has proven to be hard working and extremely dedicated to the Lynbrook community. I would like to congratulate all honorees and thank them all for their hard work and dedication."
About the Contributor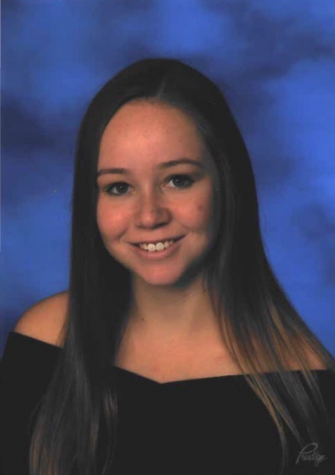 Jane Hoeflinger, Editor-in-Chief
I am a member of the Class of 2020. In my free time, I write articles for Horizon. I am the editor-in-chief for the print edition for 2019-2020.