LHS's Response to the Gun Control Walkout
Hang on for a minute...we're trying to find some more stories you might like.
The events of the Feb. 14 shooting at Marjory Stoneman Douglas High School in Parkland, Florida, shook the country to its core, and as a result, the movement to end gun violence has gained substantial traction nationwide. After the shooting, social media erupted with messages of sympathy, support, and solidarity to the victims, but the focus quickly politicized as shock and sadness turned to anger and inspired activism. Hashtags like #EnoughIsEnough and #NeverAgain have been pivotal in drawing attention to the paramount issue of gun violence, but social media was also used to organize protests.
Through the dedication of teen activists spreading the message, a national walkout sponsored by The Women's March Association was organized for Mar. 14, one month after the shooting. Over 3,000 events were registered with the Women's March Association, and many more protests occurred unregistered. While each school organized its respective protest in a unique way, the general guidelines set by the official movement were that the protests would occur at 10:00 a.m. for 17 minutes, one minute for each of the victims of the shooting, and after a substantial moment of silence, the primary purpose of the walkout was meant to protest government for stricter gun control laws.
"
I'm proud of how the memorial assembly we led brought the school together in unity."
— SGA President Dustin Mandell
Nationwide, the protests were a huge success, and the power of young students' activism was well displayed. LHS contributed to this movement by hosting a schoolwide memorial service in the gymnasium. The student government association (SGA) worked together with the administration to plan the 17-minute assembly, in which SGA representatives and passionate students read the names, ages, and a short description of each of the victims, followed by a moment of silent reflection to honor them.
"I thought the memorial served its purpose and was great in every way, and I was proud to have the opportunity to honor the victims," says junior Brian Egan. "The many meetings and equal collaboration allowed for all voices to be heard and for one goal to be attained: that the moment of silence to honor the 17 victims would make the student body, teachers, and administrators one voice at LHS," says SGA Advisor and English Teacher Mary Kirby.
Dustin Mandell, SGA president and host of the memorial, says, "I'm proud of how the memorial assembly we led brought the school together in unity. The silence that fell over the room during the victim remembrance was moving and powerful. I'm inspired by the feelings brought out by the speakers to make my fellow students passionate about whatever they believe will fix the problems of school violence."
"
To ask over 850 students to be silent for six minutes and for it to happen is unique. We don't know any different because we're in Lynbrook, but for those of us who have worked in other buildings, it shows just how special Lynbrook is."
— Assistant Principal Matt Sarosy
The ceremony was also a reminder of the community that Lynbrook is. The "LHS Family," as Principal Joe Rainis called it, stood together respectfully regardless of individual students' personal agendas for or against gun control protest. "I thought everyone in the gym was super well behaved, and it was very well prepared. All the students were respectful," observed Math Teacher Maria Mantikas. Matt Sarosy, assistant principal, agrees, "We were very proud of how the kids responded to it. To ask over 850 students to be silent for six minutes and for it to happen is unique. We don't know any different because we're in Lynbrook, but for those of us who have worked in other buildings, it shows just how special Lynbrook is."
While the memorial was a well-organized and positive experience for the students and faculty, some students felt that it neglected the main purpose of the day, which was to protest inadequate gun control legislation. Some went as far to say that their right to protest was infringed upon because they had to go to the assembly. "While I thought the memorial was a nice tribute to those who have passed, I did feel that my opportunity to participate in the national movement was thwarted. I recognize the reasons behind the assembly, but I can't help but feel that there's more that needs to be done," says Junior Alyssa Burton. "I think the students who wanted to protest should've been able to," adds junior Ben Tetelman.
To respond to the students who disagree with district administration taking such an active role in this event, Assistant Principal Matt Sarosy, says, "For students who are frustrated, I would like them to know–and I hope they do know–that so are we, and what we were hoping to accomplish that day was to memorialize the victims. There are far more productive avenues that students and teachers and staff can take to bring about actual change, and that starts at the ballot box, and it starts with lawmakers. We don't write public policy; we write school policy. We don't create legislation, and that's where that change needs to take place."
Students did have conversations about staging protests instead of or in addition to the school's memorial, but ideas lacked specificity in their message and methodology, which made it difficult to get a lot of people on board. "I feel like a lot of kids went in with limited information on the subject and just bandwagoned on others' ideas," says Tetelman. Since the school memorial was already in place, and there were not any cohesive plans otherwise, the students who wanted to protest just settled for attending the memorial and wearing orange to support their beliefs on stricter gun control. "The commemoration was nice, and it was okay that it didn't take a side, but I think that as students who were looking to protest, we should take advantage of other opportunities to make the point we didn't get to on March 14," says Zain Ajmal.
Even if pro-gun control students were able to organize a political protest, an important problem with doing so in school is that, no matter what the issue, there will always be those who disagree with the popular opinion. Principal Rainis made it clear in a school assembly that the administration is taking steps to "protect the house" and secure the building. Furthermore, the Board of Education has been vocally disappointed with the state for delays in funding those efforts, but many still believe that, even with electrified doors and increased security, the solution to preventing gun violence is more guns, not less. Those students chose to wear blue on Mar. 14 to represent their side of the issue: they want the school to get metal detectors and armed guards to protect the students, and they do not believe in restricting access to guns. One such student, junior Jimmy Murray, says, "I was glad that the assembly was kept strictly as a memorial, and as a conservative, I hope the school recognizes the need to 'Protect the House.'"
"
I'm glad they kept it a-political because I don't think it would be fair to make everyone attend a protest they don't support."
— Kevin Loonie, junior
So, while some students wished more could have been done, others were glad that the pro-gun control agenda was not forced on them by the school. English Teacher Carla Gentile says, "I like the fact that it wound up being a memorial service because that was probably the best use of our time. I definitely like that the gathering was non-partisan because it allowed everyone to contribute to something meaningful without being divisive. We weren't divided on an issue; instead we were united." Junior Kevin Loonie agrees, "I think they did a good job for what they were trying to accomplish. And, as a conservative, I'm glad they kept it a-political because I don't think it would be fair to make everyone attend a protest they don't support." Assistant Principal Sarosy adds, "As public school administrators, we have a responsibility to represent all students in the building and not politicize causes regardless of our personal feelings."
All in all, while there are important arguments on each side of the walkout controversy, all can agree that the ceremony held, albeit nonpartisan, was powerful, supportive, and moving. Whether students felt that it did too much or not enough for the gun control movement, there are many opportunities for protest in coming weeks that students on both ends of the spectrum can participate in. First, a national march on Washington, New York, and many other cities will be held on Saturday, Mar. 24. "I'm really excited to be going to the march to show my support for gun control," says junior Jared Harwin. After that, there is another nationwide walkout scheduled on Apr. 20, the anniversary of the Columbine Shooting. Regardless of political opinion, getting people talking about relevant issues, promoting activism in the way each individual sees fit, and using technology and social media to one's advantage are important first steps in shaping this generation into the peaceful, progressive, and tolerant one it can be.

Loading ...

About the Writer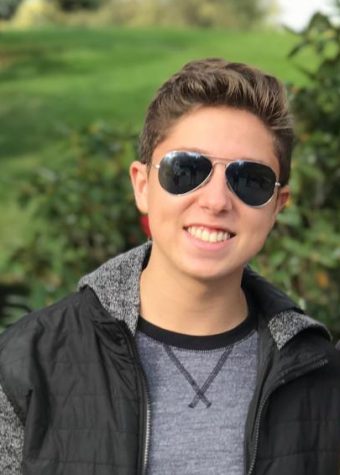 Sam Cohen, Editor-in-Chief
I began participating in Horizon as a writer in my freshman year, and I was editor for A&E as a sophomore. As editor-in-chief of the website my junior...