After a great loss to South Side High School on October 13, the varsity football team bounced back and beat the Levittown Blue Dragons with a whopping score of 43-0. 
When asked about what the game plan was going into the game, Head Coach David Yaker said, "Our plan was to eliminate some of the mistakes that have plagued us in recent weeks: silly penalties, mental mistakes. We wanted to play a clean game on offense, defense, and special teams. We didn't want to give the division any chance of being in this game. We didn't make mistakes and were able to capitalize on moments that we needed." Reflecting on the outcome of the game, Yaker added, "The most satisfying part of the whole day was that every player got a chance to play in front of the amazing Homecoming crowd. The reality is that not everyone gets the opportunities on Saturdays, so it was especially great to see every athlete get into the game."
Lynbrook forced a 3 and out on Levittown's first drive and drove down the field. Senior running back Michael Hendrickson scored a 2-yard rushing touchdown to put the Owls up by 8. The Owls never took their foot off the gas and forced back-to-back 3 and outs and went up by 22 points just in the first quarter. Sophomore quarterback/free safety Paolo Palleschi and senior wide receiver/outside linebacker Roman Calderon each scored a touchdown in the opening quarter. 
To open the second quarter, the Blue Dragons drove all the way down the field before getting a 15-yard penalty, bringing them back to the 17-yard line. From that, they were unable to convert on 3rd and 4th down. The Owls took over and Hendrickson had a 27-yard rush, bringing the team past the 50-yard line.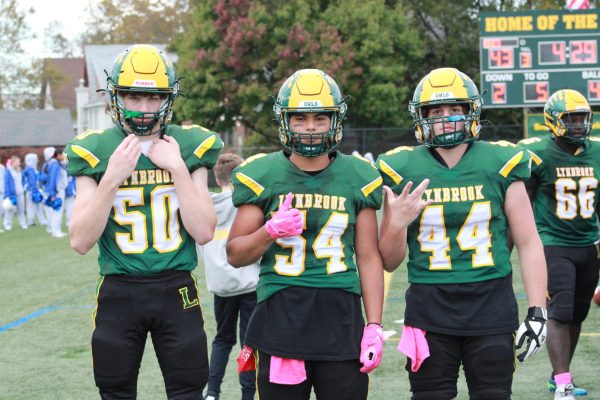 Calderon and senior quarterback Maxson Weiss connected for a 15-yard catch, and junior quarterback Bennett Votano ran for 28 yards before Hendrickson scored the go-ahead touchdown. At halftime, the score was 36-0, Lynbrook. 
On Levittown's next drive, they went for it on 4th down, but instead were left with an incomplete pass. The Owls took over with great field position and time on the clock. Weiss then ran it in for a 5-yard TD rush to increase the Owls' lead to 36-0 heading into halftime. 
To start the second half, junior quarterback Joseph McHale stepped in for Weiss as quarterback and led the Owls on a 7-minute drive. Given that there were only two possessions in the 3rd quarter, there was no scoring and the Owls' game plan was to just kill the clock. 
On the first play of the 4th quarter, McHale ran for 42 yards before senior kicker Patrick O'Doherty scored a 7-yard TD rush. When asked about how it felt being out there for the entire second half, McHale expressed, "It felt great being out there with a huge crowd and everyone watching. It was special, unlike any game I've ever played before." When asked if his 42-yard run was a designed QB keeper or a broken play, McHale revealed, "The run was an option, and I decided to pull and run and clearly worked out." 
Hendrickson finished with 116 yards and 2 TDs on 12 carries. Calderon added 44 rushing yards and a touchdown on 4 carries. He also recorded 2 receptions for 36 yards and 2 sacks. Junior kicker Luke Dantona also went 5/5 on PATs.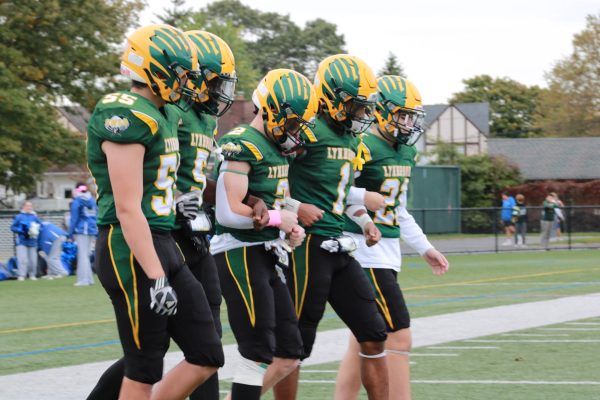 When asked about what this win means for the team moving forward, Hendrickson exclaimed, "This was a good one to have. We knew what we needed to do, and we executed. We made sure that we took care of business and didn't let them hang around. Moving onto the next week after a win is always good. We learn from our mistakes from this game and clean up anything we have to for next week." Hendrickson added, "There is nothing like a Lynbrook Homecoming. Nothing can match the atmosphere…Just thinking that was my last Homecoming is bittersweet. For the past three football seasons, Homecoming was always about the seniors and the older guys for me, and this time it was for me and my seniors. It was a great Homecoming in the best town, with the best people, and I'm grateful that we were able to secure the win and give Lynbrook another Homecoming victory."