Canadian Wildfire Fumes Spark Air Quality Alerts Across the U.S.
Blue skies have turned a haunting orange as air quality levels worsen in New York. Air quality levels have risen to over 300 (for reference, the average air quality in New York is around 10-15), which is deemed hazardous by New York weather officials. Local Long Island schools have sent out air quality advisories, urging students to stay indoors. Problems such as these bring many questions to light: what is causing this hazy sky? How long will it last? What can people do to stay safe? What long-term climate issues will ensue? Luckily, thanks to modern meteorology technology, updated information on the situation is constantly in circulation. 
These unfortunate circumstances stemmed from an extreme amount of wildfires erupting in Canada. According to The Washington Post, as of June 7, there were four hundred active fires, and over two hundred were deemed "uncontrollable" by fire officials. Canada is known for its active wildfire season in the months of May through October, but it has reached historic levels of destructiveness. This is explained when looking at Canada's recent weather history. Combinations of extreme dryness, drought, and heat make what is essentially a breeding ground for flammable spores to spread, especially in areas with highly flammable materials (such as wood in a forest). Quoted in a CBS News article, President Biden said, "We've deployed more than 600 U.S firefighters, support personnel, and equipment to support Canada as they respond to record wildfires – events that are intensifying because of the climate crisis." The crisis has definitely not been ignored by both U.S and national representatives, but that does not mean that problems are solved. 
Winds blew the groggy air towards the United States—most particularly the East Coast—and completely covered it in a thick layer of orangey-yellow smog. Many Northern states are affected by this smoky air with varying levels of extremity, namely New York, New Jersey, Pennsylvania, Massachusetts, Idaho, Nebraska, Washington, Montana, Wisconsin, and Wyoming. The smog is thick and heavy, blanketing the ozone and making it difficult to breathe in affected states. It also brings the scent of burning wood, making the affected areas smell like a campfire or barbeque. Even if a smell is undetectable, the toxins in the air are pollutants to human lungs. 
Perhaps the most jarring effect of this smoke is the color it has painted the sky. In New York, the sky varies throughout the day from an ominous yellow to an apocalyptic looking orange. "Once I looked outside for the first time at around 2:00 today, I was more than confused. Is it really safe for us to be outside?" said junior Parker Sloan. The color variations are the result of mass amounts of smoke polluting the sky. The situation has gotten so severe at some points that the sun and moon have been a tinted reddish or orange color.
The ashy smoke wafting through the U.S is hazardous to most groups of people, specifically those with pre-existing respiratory illnesses. But what exactly is in the air that is so toxic? The primary pollutants are PM 2.5 (particulate matter under 2.5) particles, which are essentially particles small enough to enter the bloodstream. They are generally the result of wildfires and fire-related incidents. Right now, according to the Centers for Disease Control's (CDC) website (cdc.gov), the air contains a "mix of gasses, burning particles from plants, trees, and other materials," as well as ash from the fires being blown in. 
"Honestly I think that the air quality right now is unfortunate, to put it plainly. This is the time of year when it's really supposed to feel and smell like summer, but all we can smell is smoke," exclaimed junior Sabrina Ostroff. The hazy smog has been keeping many students from the summer they have been waiting for.
The health issues being caused by this smoke are prevalent. Stepping outside, most people will have slightly more difficulty breathing and may start to cough. However, prolonged exposure to these conditions can lead to dizziness, headaches, and lightheadedness. This is why the CDC as well as the National Weather Service have urged citizens to stay inside as much as they can and protect themselves from the smog.
According to public health officials, the most effective ways to stay safe in this air quality crisis are to wear a high quality mask outdoors (and indoors if one has a pre-existing respiratory condition) and to stay inside as much as possible.
"Although I think this is kind of cool, I also know that it's not very safe at all for people to be going outside without a mask… it can cause breathing problems especially for people with asthma or lung problems," explained junior Lucia Palumbo. 
As of June 7, New York has been titled with the second most polluted air in the world, behind Delhi, India. The National Weather Service has sent out an air quality advisory to Southern Nassau, urging civilians to stay indoors. Bleak news aside, circumstances will likely soon return to normal! According to The Washington Post, "winds will become more northwesterly Friday into Saturday… visibility, sky conditions, and air quality will improve somewhat."
About the Contributor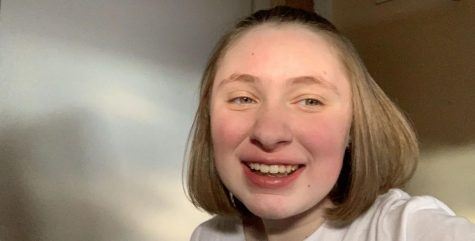 Kerry Cullen, Driftstone Editor-in-Chief
I am a member of the Class of 2024 as well as a managing editor for Horizon. I like to write, read, sing, and act. One fun fact about me is that I love...