Fish-out-of-Water Fans in New York
As New York is one of the largest markets of sports fans in the world, the state is also defined by its iconic teams. Ranging from basketball to hockey, there are many teams with successful histories that represent New York. However, in the past decade, there seems to be a universal struggle for almost every major-league New York sports team. The New York Jets have the longest active playoff drought out of all four major-league American sports, the New York Mets have had promising players come and go without reaching their full potential, and the Nets have become one of the most famously failed "super-teams" in NBA history. 
The typical unsuccessful nature of New York teams has led New York sports fanatics to start exploring other markets and eventually supporting out-of-state teams. Some have even turned to support the archrivals of their home-state, changing their lives as sports fans. 
Among some sports fanatics at LHS, Florida reigns as one of the most popular out-of-state markets. Since both states are located on the East Coast, more specifically New York City and Miami, they have been rivals in just about every sport for decades. The New York Knicks and the Miami Heat have a storied rivalry, which was recently renewed in this year's NBA Playoffs; the New York Jets and Miami Dolphins have one of the most historic rivalries in NFL history, with iconic moments including Dan Marino's fake spike, Ted Ginn Jr.'s two touchdown game, and the "Monday Night Miracle" in which the Jets erased a 23-point deficit to win an overtime thriller by a score of 40-37. 
Sophomore Omarion McClean has been a faithful Miami Dolphins fan for several years, and he has dealt with his fair share of struggles being a "fish out of water" in New York. "If [the Dolphins] are good that year, people will call you a bandwagon because they're an out-of-state team. [The Dolphins] used to be one of the trashiest teams in the league, so it was a struggle," said McClean. Despite his struggles being a fan, McClean still stays loyal to his beliefs about why the Dolphins are the best team in the NFL: "They're one of the few teams that thinks of each other as brothers. I feel like you hardly see that nowadays. It also makes me happy watching the Jets get their butts kicked by Miami twice a year."
The word "Boston" has become synonymous with the word "rival" for many New York fans. It is another long-standing East Coast rivalry that dates back several decades and has shown no sign of slowing down any time soon. This rivalry stretches across major-league sports, each with its own unique story. During football season, calling the New York Jets and New England Patriots a rivalry would be an understatement because New England has dominated the Jets for as long as many LHS students have been alive. New York Rangers fans have turned to despise the Boston Bruins as they have shown dominance over the Rangers for years sporting a 302-252-97 record. The New York Knicks and the Boston Celtics have developed an iconic rivalry: one that reached its peak during the '70s but continues to show the intensity almost 50 years later. Lastly, arguably the most iconic rivalry in all of sports, one that has carried on for generations, on the field, in the stadium, on talk shows, and among friends: the New York Yankees and the Boston Red Sox. Fights, comebacks, blowouts, you name it, this one-of-a-kind rivalry has played host to some of the most iconic moments in MLB history. 
Junior Parker Sloan is one of the few "soldiers in enemy lines" as he is proud to call himself a Red Sox fan in New York. Sloan described his struggles dealing with opposing fans: "It's the hardest part about being a fan of another team, dealing with other fans, especially Yankee fans because of the team's insane rivalry." Sloan also expressed his annoyance with being unable to see his team play in person: "I don't like not being able to go to as many games as I would like." However, when Sloan can see his Sox come to the Bronx to take on the Yankees, he makes the most of it. "I love rooting against the Yankees at Yankee Stadium [while] wearing a Red Sox jersey. You get a special feeling rooting for something different than everyone else in your area. It's great!" he exclaimed. 
A common enjoyment of out-of-state fans is watching their teams surpass the locals. Freshman Cooper Cannon, who represents the "Steel City" of Pittsburgh, can attest to this. Cannon is grateful to have family living in Pittsburgh and proud to call himself a fan of the Steelers, but during football season, he feels isolated in a sea of "Gang Green" and "Big Blue." "There is nobody around that you can talk about your team with. It gets lonely during the football season," he said. However, this loneliness does not stop Cannon from eagerly awaiting matchups between the local teams and his Steelers. When these matchups occur, Cannon says he discusses them with his peers for "weeks in advance." Cannon's Steelers sport a dominant 20-7 record against the Jets; however, they have been historically dominated by the Giants, sporting a 31-44-3 record against the "Big Blue."
"Bandwagon," "Trend-Follower," and "Traitor" are some of the many names that are associated with out-of-state fans, but although their presence stimulates disunity, it adds diversity to one of the largest sports markets in the world. Fans have stories about why they choose to support the teams they love, and while these disagreements may spark heated debates, they add fuel to the fire of the rivalries sports fanatics have grown to know and love. 
About the Contributors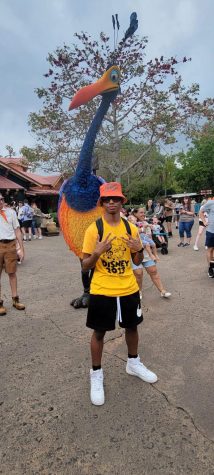 Justin Williams, Managing Editor
Hello there! I'm a member of the Class of 2025 and sports editor for Horizon. I love playing, watching, and writing about all things sports. My favorite...