An Honest Review of Taylor Swift's 'The Eras Tour'
Taylor Swift: Whatever one's opinion is of her, there is no doubt she is one of the most popular and influential music artists of this generation. Someone described by many as "the music industry," Swift has been in the game for a while – 17 years, to be exact. Throughout her years, she has put out ten albums, two "Taylor's Version" re-recorded albums (and counting), and performed five concert tours. Her most recent, The Eras Tour, has been rumored to be her most exciting and extravagant tour yet. As its name implies, The Eras Tour takes audience members through [almost] every "era" Taylor Swift has gone through since the beginning of her music career. There are around four to six songs per era, with Speak Now and her debut album, Taylor Swift, being outliers with only one song and having no songs at all, respectively. Her newer albums have slightly more songs on the set list as well, simply because Swift has not had a chance to sing these songs on tour yet. The true standout songs of this tour are Swift's "surprise songs," in which every show she plays two completely different songs, both acoustic: one on guitar and one on the piano. This keeps fans anxiously awaiting the songs they will hear that night. From the opening acts to the extreme details, The Eras Tour was worth "The Great War" to get seats!
A full concert experience starts with the atmosphere. For these shows, "Swifties" go all out. At MetLife Stadium in East Rutherford, New Jersey, on Saturday, May 27, there were lots of hidden Taylor Swift references, bright colors, and glitter. The positivity radiating off the crowds made the atmosphere of the concert exponentially more welcoming and fun. Fans were also trading bracelets on every line, in the parking lot, and in the stadium. It was heartwarming to see fans bond over them.
After the opening acts of Gracie Abrams and Phoebe Bridgers, the show started with a clock ticking down. When it got to 0:00, performers walked out onto stage waving giant pastel fans while Swift's introduction played. The excited suspense in the stadium was palpable. Finally, like magic, Swift appeared out from under the fans and started her Lover set, the first era of the night.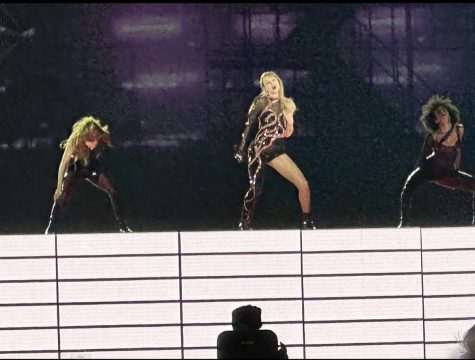 Lover kicked off the tour with six songs: "Miss Americana & The Heartbreak Prince," "Cruel Summer," "The Man," "You Need to Calm Down," "Lover," and "The Archer." Lover was a perfect start to the tour. The songs are upbeat and fun, and they further excite fans who are ready to scream Swift's lyrics all night. The colors were bright and primarily pink, and the stage displayed different backgrounds and colors to match what song she was singing (this is a constant throughout the show). She had one large set piece that she used multiple times for different uses in the show. For Lover, it took the form of different floors to a corporate building because she was "The Man" – a song that explores sexism in the workplace and in broader society. For her Saturday, May 27 show, Swift's outfits for Lover consisted of a "bejeweled" rainbow pastel one-piece and a silver, sparkly blazer for her performance of  "The Man." This was a high-energy and fantastic way to open her set, and it was a joy to witness. To signify eras changing throughout the tour, the stage lights flash and the screen on the main stage displays the next era's signature color. Gold colors were displayed for my show, so Fearless was up next.
Fearless was one of her shorter eras on the tour, with only three songs: "Fearless," "You Belong with Me," and "Love Story." Despite its length, Fearless did not disappoint. She wore a gold flapper-like dress with rhinestones and sparkles. The timeless songs chosen and the stage lit with the image of a sparkly silver guitar, an iconic image from the era, made Fearless a memorable and fun section of the show. 
Suddenly, images of nature were shown on the screen, and larger-than-life tree structures arose from the stage. It was truly an extraordinary sight to witness. This was the start to the Evermore set, which contained five songs: "Tis' the Damn Season," "Willow," "Marjorie," "Champagne Problems," and "Tolerate It." These songs are slower and slightly more solemn than the songs from the other sets, and it was a nice change of pace to quietly sing along and bask in the moment. Swift wore an amber-colored floor-length dress. The visuals in this era were very interesting, having an almost Salem witch trial-looking ensemble of dancers behind her complete with fire for "Willow," a beautiful moss-covered piano for "Champagne Problems," and a fully set table for "Tolerate It." Arguably one of the best moments in this era was when she sang "Marjorie," resulting in fans collectively turning on their phone flashlights, which made for a heartwarming and emotional moment. Evermore was a beautiful collection of songs that truly connected the stadium. 
Taking a complete one-eighty turn from Evermore, the next era was Reputation. Immediately recognized with a snake slithering across the stage, this era is defined by personal growth, and living for one's self. This set had four songs: "…Ready for It?," "Delicate," "Don't Blame Me," and "Look What You Made Me Do." This era, having arguably some of the most quotable songs, was immensely fun and empowering to listen and sing to. Swift wore a black bodysuit with snake detailing, an ode to the era's most standout symbol. This section's most notable detail was the "different eras of Taylor" set displayed behind her during the "Look What You Made Me Do" performance, referencing the music video of the same name. Screaming along to the powerful lyrics of Reputation was a liberating experience. Eventually, the snake shed its skin, and it was time for the shortest era of the bunch.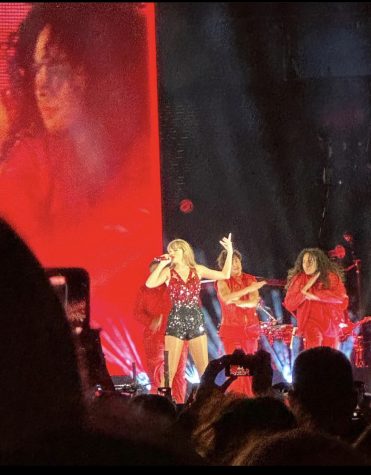 Speak Now only had one song ("Enchanted"), but it still delivered in performance. The stage was lit with purple sparkles, and Swift wore a gorgeous purple ball gown-style dress. The absence of other tracks from this album might be explained by the anticipated release of Speak Now: Taylor's Version on Friday, July 7, and for that reason, it is worth the wait. "Enchanted" was whimsical, magical, and yes, enchanting. 
The next era is Red, with five songs, not including Swift's introduction: "22," "We Are Never Ever Getting Back Together," "I Knew You Were Trouble," "Nothing New (ft. Phoebe Bridgers)," and "All Too Well (10 Minute Version)." The era started with one of the dancers rolling a sparkly red cart out onto the stage. Upon its opening, the audience heard recorded snippets of "State of Grace," "Holy Ground," and "Red." Suddenly, Swift popped out in her "A Lot Going On At The Moment" shirt and fedora-like hat, referencing her "22" music video. She ended the song's performance on a heartwarming note, giving the hat to a younger child on the floor. After that, she switched into a red sequined dress fading into black sequins at the bottom. Red had two very distinct vibes: fun and emotional. The more fun songs were danced around to, and featured flashy red lighting. After those songs, Bridgers joined Swift to sing "Nothing New" with her, to my absolute delight. Hearing the two performers sing together was a definite highlight of the night. Then, it was time for the ultimate "Swiftie" song: "All Too Well (10 Minute Version)." Hearing other fans sing along to its iconic verses, as well as hearing Swift perform it live, was a truly special experience.
Folklore started with a spoken word poem of her song "Seven," which was a calming way to begin. The stage displayed forest imagery, and Swift brought out her large set piece to make a cabin for performances of  "The Last Great American Dynasty" and "Betty." The era's seven songs ("The 1," "Betty," "The Last Great American Dynasty," "August," "Illicit Affairs," "My Tears Ricochet," and "Cardigan") created somewhat of a soft, calm vibe for the set. Swift wore a green, flowy dress. Highlights from this set include hearing the iconic bridge to "Illicit Affairs" following the beautiful "August" (with one of the prettiest screen displays out of the whole show). Much like Evermore, Folklore was a calming, gentle set compared to Swift's other albums, but was still entertaining.
Now, into arguably one of Swift's most forgotten albums, 1989. This set had five songs: "Style," "Blank Space," "Shake It Off," "Wildest Dreams," and "Bad Blood." Through and through, this set was a fun group of songs to dance around and scream along to, which is really the whole point of a concert. Swift was rocking another green outfit, this time light green and a two-piece set. It was incredibly fun to scream all the lyrics, but at this point in the concert, the crowd was only focused on one thing.
Now, for the main event…kind of. The audience had been waiting almost three hours to hear songs that would not be played again at following shows. "When she does her surprise songs…it is honestly amazing," said sophomore Lucas McNally. At the Saturday, May 27 show, the surprise songs were "Holy Ground" (from Red) and "False God" (from Lover), which  many feel are some of Swift's best works. Hearing this pair was EXTREMELY exciting, and made the concert even better.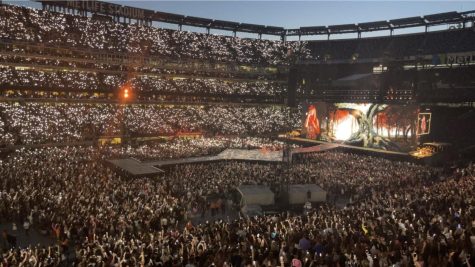 Finally, after Swift dove under the stage into a "pool," her Midnights set started. Midnights, her most-recent album, featured seven songs: "Lavender Haze," "Anti-Hero," "Midnight Rain," "Vigilante S**t," "Bejeweled," "Mastermind," and "Karma." There is nothing more to say about this set that has not been said about the others. It was extremely fun to jump around singing the lyrics fans have been listening to since the album's October release. She had multiple outfit changes to match each song, and the lights were different for each song as well, signifying that Midnights is her most musically diverse album yet. A significant note is that for "Karma," Ice Spice, an artist who Swift collaborated with on a new version of the song mere days before, came out and sang her verse, shocking fans. The song was a perfect finale to a perfect concert.
"Just the fact that she can perform for over three hours and keep the audience engaged throughout is incredible. I still can't believe I actually experienced The Eras Tour, and I think it lived up to the hype," said junior Alexis Raynor. Senior Alyssa Inserra added, "The Eras Tour was unforgettable. Once I was in the thick of it, the crowd and music enveloped me, and I never looked back…She checked all the boxes, and delivered a show that was deserving of so much praise, and was worth any hassle in getting a ticket to see her." Every detail, down to the outfits and lighting, formed an incredible show.