Who is Amanda? Get to Know the Owls' Athletic Trainer
During any Owls sporting event, there will be a woman roaming the sidelines, serving to any player that needs medical attention following an injury. Just by that description, one can already tell that she is Lynbrook's athletic trainer. But who is she? Amanda O'Sullivan is not just any woman on the sidelines.
O'Sullivan was not aware of what physical training was heading into college, but she fell in love with it after taking classes, earning her bachelor's degree in 2017. She started working with the Owls fresh out of college in November of the same year she graduated. She has no regrets working with Lynbrook, as she says everyone in the Lynbrook community is awesome. She expressed, "The connections, the kids, the parents, the coaches, the administrators — everyone here is so great and supportive that it makes it a fun and easy work environment."
When asked about her favorite memory during her six years at Lynbrook, O'Sullivan could not make up her mind. "Anytime a team has made it to Hofstra for a playoff game is up there, just the excitement in the athletes and the atmosphere we create as a community," she recalled. Some of her favorites also come from "the insane things that happen at practice."
"The support [from the community] means absolutely everything to me and has been so important. It makes my job so enjoyable to the point where I look forward to coming into work every day," O'Sullivan said cheerfully when asked about what the community's support means to her. "I still stay in touch with some of the coaches and athletes that have moved on or graduated on a regular basis. Everyone in Lynbrook is just amazing."
Practically no one, from athletes to parents, has made any complaints about O'Sullivan. One of her greatest qualities is her tendency to socialize with the athletes, which is why the Lynbrook community loves her so much. Many athletes have started their friendship with O'Sullivan purely out of conversation, not necessarily because of an injury. One of these athletes is senior Kaelynn O'Brien, who first met O'Sullivan during her freshman year basketball season. When O'Brien was dealing with an injury, O'Sullivan was always there to help right away; when O'Brien was not injured, the two still talked before practices or games. "Amanda is not only caring [when it comes to athletic training or injuries], but also in sports. She knows how to help me either calm down before a big game or help me overcome a problem," said O'Brien.
O'Brien wishes for more people to know about O'Sullivan's personality. "She is super caring inside and outside of school sports. She's an even better person than a trainer, and she deserves all the credit in the world for each team's success."
Junior Michael Hendrickson is another athlete that has had nothing but positive things to say about the healthcare professional. Hendrickson started seeing O'Sullivan for his injuries during his freshman year; she has helped him with everything from "blisters to broken bones." Hendrickson admires O'Sullivan's ability to bond with the athletes. "She's the best. She connects with her patients. She isn't just an athletic trainer, she's a friend," he said.
O'Brien and Hendrickson are part of the large community of people who appreciate O'Sullivan for her work with the team, as well as for her openness to anyone and everyone. She has easily become one of everyone's favorite personnel on the sidelines.
About the Contributor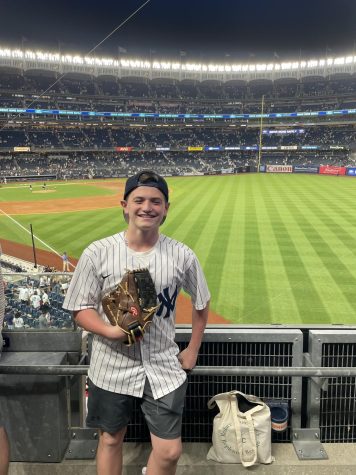 Sean Strohofer, Managing Editor
My name is Sean, and I am a member of the Class of 2025. I have a deep desire for sports and writing, so you might see me at sports events around town!