Key Club Achievements Highlighted at Latest BOE Meeting
LHS's Key Club (KC) was recognized at the monthly Board of Education meeting for the awards it won at the Leadership Training Conference (LTC). The monthly meeting took place on May 3 and began with a couple of announcements before it transitioned right to the presentation of several awards that certain students accepted on behalf of the whole club; most members of the Key Club board attended. Gabriella Slootsky, former district governor of Key Club International, presented several awards to the club. "I came all the way down from Staten Island," she said. "It was great to see everyone, especially a couple of familiar faces from the LTC conference." The LTC was a trip some Key Club members attended earlier in April.
Superintendent Dr. Melissa Burak said, "It was a shock to hear that Key Club had won additional awards on top of Best Advisor." She added, "It was a proud moment for all to hear the numerous accolades." The awards presented to the Key Club included Increased Membership by 15%, Completed Paperwork Award, Excellence in Fundraising Award for both Total Funds Raised and Largest Single Project, the Distinguished Club Award, and the Best Advisor award, which Key Club advisor and business teacher Dr. Benedict Tieniber received for his commitment and contributions to the club. "A lot of work goes into Key Club behind the scenes. It's just amazing to see how our hard work has paid off," Tieniber expressed after receiving the notable award.
On account of Tieniber's character, Burak shared, "He is very charismatic, and he continues to excite his students and motivate them to do all these wonderful works."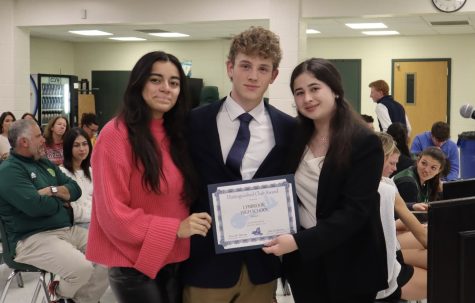 Along with the recent awards ceremony, KC just had its 2023-24 service year elections. The newly elected Presidential Executive, junior Raquel Romano, added to the praises of the club she has been a part of for three years: "To see Gabriella Slootsky, a past district governor of 261 schools, come down to appreciate Lynbrook High School's Key Club truly put into perspective all the work we have accomplished as a club."
Key Club's mission to provide services, build character and develop leadership has been the drive for every member.
Tieniber conveyed, "Between early morning meetings, last minute signups for blood drives, and the limited time the students have to sell Double Good Popcorn [a huge fundraising affair and Burak's 'favorite event' held by Key Club every few months], the kids get it done, and most importantly, with a smile on their face[s]."
Among fundraising events, the famous blood drives, and bingo nights at Sunrise Assisted Living, KC has spread kindness and shown determination no matter the size of an event. 
When asked how Key Club could serve the district, Burak responded, "Reading to younger schools" and "showing a younger generation what it means to be a leader and making it aware [of] the importance of having your own voice."
KC has moved mountains by surpassing several goals this year, especially in the matter of fundraising. Over $150,000 have been raised for various charities in the past three years within the club, and it has shown no sign of slowing down. Of Key Club's continuation to donate to the Dr. Barbarino Fund, Burak said, "As one of the founders of the amazing organization, he has given back tremendously to the community, and it is inspiring to see the wonderful partnership between the Barbarino Fund and Key Club and see his memories and morals live on."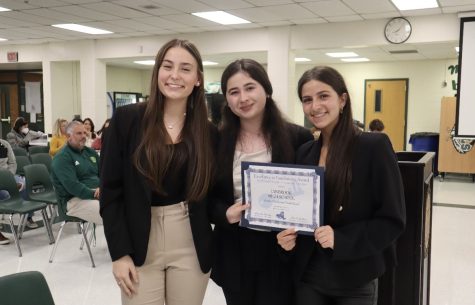 As a new service year begins and the seniors of the club leave, with sadness also comes amazing opportunities and hopefully new freshmen faces in the fall. Romano expressed, "It's phenomenal to see how much we have done this year, but it's so exhilarating to see what this next year brings, and I'm so excited."