Calvin Berger Steals the Show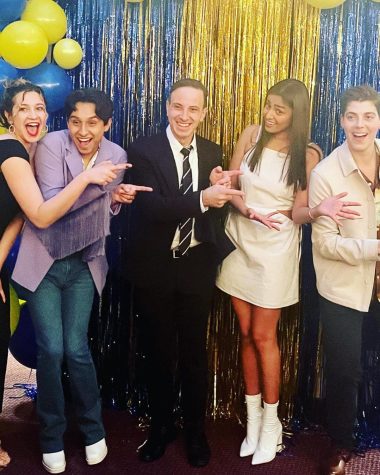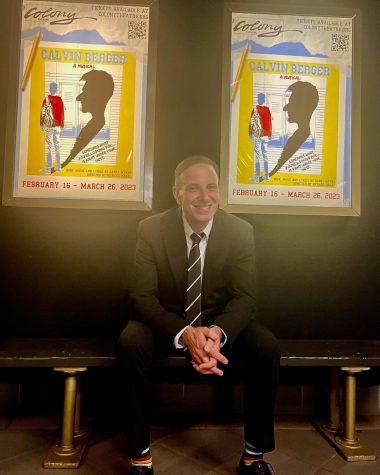 Something that many students do not know is that there is an award-wining playwright right under LHS's roof: chorus teacher Barry Wyner. He wrote and composed music for his musical, Calvin Berger, which has been performed in nearly every state and across multiple continents since 2006.
Calvin Berger follows the lives of four high school students: Calvin, Rosanna, Matt, and Bret. Calvin, who is insecure about the size of his nose, has a crush on Rosanna. However, Matt, the good-looking new kid in school, also has a crush on Rosanna. "It's kind of like a love parallelogram," explained Wyner. Both have difficulties expressing their feelings for Rosanna—Calvin is not confident in his looks, while Matt trips over his words. So, they decide to combine forces in order to help Matt win Rosanna's affection. Calvin writes love letters for Matt to give Rosanna, and eventually, Matt and Rosanna start dating.
Meanwhile, Calvin's best friend, Bret, is in love with him, but has trouble voicing her feelings for him. Calvin, however, is still secretly in love with Rosanna, and he writes a private note confessing his feelings for her, instructing Matt to deliver it to her. Calvin cancels plans with Bret so that he will be ready when Rosanna learns the truth; but, Rosanna storms away from her and Matt's date before Matt can give her the letter. Matt reads the letter and angrily confronts Calvin, while Bret, upset that Calvin has canceled their plans, also confronts him. 
Calvin apologizes to Bret, at which point she confesses her feelings for him; the night ends in a kiss. Matt wins back Rosanna's affection by promoting her charity, and by the end of the play, all has been resolved.
Wyner started writing the musical in 2004 as a project for a musical theater writing workshop. He received inspiration for Calvin Berger from Cyrano de Bergerac, an 1897 play written by Edmond Rostand, that he greatly admires. He was also inspired by the 1987 movie Roxanne, in which a woman falls in love with one man's personality but another man's looks. 
Wyner had many mentors throughout the production process. One such mentor was the famed composer Stephen Sondheim, who was known for responding to mail from aspiring playwrights/composers. Wyner wrote to him asking for advice, and Sondheim responded, instructing him to move to New York and get a master's degree in classical music. Wyner listened to both pieces of advice, moving to New York from Massachusetts and earning a master's degree in classical music from Queens College. After the production of Calvin Berger was complete, in 2007, Wyner won the Richard Rogers Award—as part of the award, Wyner got to have lunch with Sondheim. Additional awards that Wyner has won include the Kleban Prize, which he won in 2010 and received $100,000 for, as well as the Jerry Bock Award, named for the composer of Fiddler on the Roof, that he won in 2005. Part of the prize included lunch with Bock. He also won the Noel Coward Prize, which is reserved for people who write both music and lyrics for musicals.
Another of Wyner's mentors was William Finn, the composer of the 1990s musical Falsettos—the very musical that sparked Wyner's interest in musicals. "His work speaks to me," Wyner said. Finn, who was the artistic director at the Barrington Stage Company in Massachusetts, chose Calvin Berger to be developed in 2007. One piece of advice that Finn gave Wyner was to consolidate all of the conflicts into one big fight scene. "I took his advice, and it's one of the best scenes in the show," Wyner said. The development featured many up-and-coming Broadway stars, including Aaron Tveit (Matt), who played Christian in Moulin Rouge! and Enjolras in the movie Les Misérables. "Aaron Tveit still responds to my texts!" Wyner exclaimed. Additionally, the music director, Justin Paul, went on to write music for La La Land and Dear Evan Hansen. Other famous actors who have had roles in Calvin Berger include Neil Patrick Harris as part of the BMI Advanced Musical Theatre Workshop in NYC—a training workshop for musical theater writers that also aided in the production of musicals such as A Chorus Line and Avenue Q—as well as Joshua Bassett (Matt) as part of a 2018 Los Angeles workshop.
Although Wyner ultimately enjoyed the process, it was not without its difficulties. "There's an expression: The great musicals are not written—they're rewritten," Wyner said. "There were whole songs that I loved, and we had to cut them because they didn't work in the show. You don't know how something is going to do until there's an audience watching it."
Since its completion, Calvin Berger has been performed in a multitude of locations. "There's a production in Georgia right now," Wyner said. It has also been performed across multiple countries, including Canada and Australia, as well as locally. "I've gone to see it in Long Island and upstate New York," he added.
The most recent performance of Calvin Berger was at The Colony Theatre in Los Angeles, which ran from February 16 to March 26. "This is the biggest [production] yet," Wyner said. This performance featured many accredited actors, including Frankie Rodriguez (Calvin), who played Carlos in the Disney+ series High School Musical: The Musical: The Series, and Jordan Quisno (Matt), who voices Andy Baker/Fury in the Disney+ series Ghostforce. "Joshua Basset did come to see this [performance] to support Frankie Rodriguez," Wyner said. 
Wyner attended the opening night of the Los Angeles performance, getting to walk the red carpet with his wife. "It felt like a dream," Wyner recalled. He noted that the production was different from how it had been performed in the past. "Maybe it's the East Coast vs. West Coast style. New York has a very Jewish type of humor, with cold cuts and bagels and Larry David. In LA, the jokes were delivered with a different cadence, but it worked just the same," Wyner said. "The way Frankie Rodriguez landed the jokes was totally different than I'd even seen it done before. It was a more modern and sarcastic take, but it totally worked, and it was very cool to see."
Wyner explained that watching each performance of Calvin Berger is like taking a trip down memory lane. "The audience always laughs; it's a very funny script. But these are jokes I wrote in 2007/2008. My life is so different now," he said. "I have three kids, I'm a teacher, and I'm living in Queens." His viewing of the Los Angeles performance was especially nostalgic, as he watched it with his son on his right and his father on his left. "It was just priceless," Wyner said. "We drove around town, and whenever we saw posters for Calvin Berger, we would take pictures as a family."
A few weeks after the Los Angeles performance, the producers from the theater—under the Provost Entertainment and Independent Artist Entertainment companies—contacted Wyner and told him they were interested in creating a film adaptation of Calvin Berger. He signed a contract with the producers, and they now have the film/television rights to Calvin Berger for one year to create a screenplay and market it to different networks. "It's not a sure thing," Wyner clarified. "I'm trying not to get too excited until I see that it's actually happening, but if it does happen, I will be beyond excited." Heather Provost, one of the founders of Provost Entertainment, said in an interview with Broadway World (www.broadwayworld.com) that the company is "thrilled for the opportunity to introduce Calvin Berger to an even larger audience via TV/film." 
In addition to bringing Calvin's story to a larger audience, a movie will help to further promote the musical's message of self-love, one that Wyner believes is of utmost importance in today's society. "It's something people always need to hear and be reminded of. It's really true for high school students, but also for adults. We all need that constant reminder to embrace your flaws and imperfections and love who you are, how you are. That's really the message of the show." Additionally, Wyner believes that Calvin Berger being produced as a movie is a very "natural" process. "I can definitely see it on the Disney network or Nickelodeon," Wyner said. "I have some faith it might happen."
LHS students and staff are excited to see Wyner's success. Fellow chorus teacher Timothy Waldvogel is especially enthusiastic: "It's super impressive that someone I work with undertook such a large task as [producing a musical]." Waldvogel hopes to one day see Calvin Berger in movie form, noting that "it would be super interesting how [the movie] is cast." Senior Lola Sokolskiy, who has been a member of Wyner's concert choir for three years, is likely excited for Wyner and attributes part of his success to his fun personality. She noted that Wyner makes everyone in the classroom feel "loved and welcomed" and that he "clearly values our opinions." Thus, her favorite part of the day is entering concert choir: "I feel as if all my worries go away. He makes the class more than just about the music. He made the class a big family." Good luck, Mr. Wyner—LHS is so proud of all that you have accomplished!
About the Contributor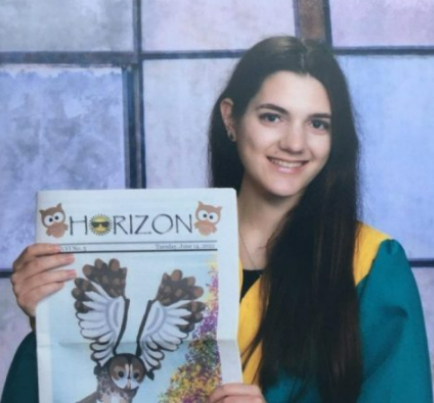 Kate Chiulli, Print Editor-in-Chief
I am a member of the Class of 2023 as well as one of the editors-in-chief of the print edition of Horizon. I enjoy reading, playing the violin, and using...