Our Town Takes the Stage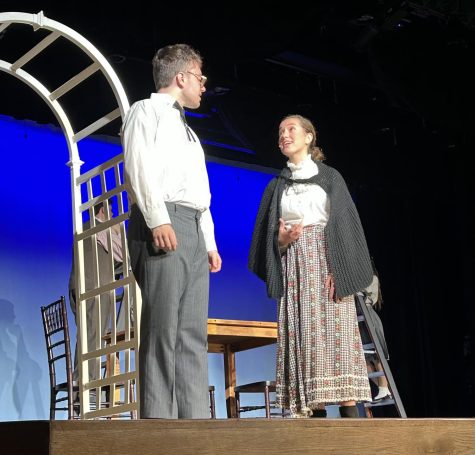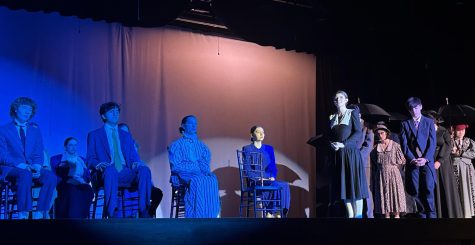 The LHS John F. Branciforte auditorium was whisked back to the turn of the twentieth century for LHS's production of Thornton Wilder's Our Town. Set in Grover's Corners, New Hampshire, "just across the Massachusetts line," the play delves deep into the themes of love, life, and companionship. Told in three acts by an omniscient "Stage Manager"—along with minimal scenery—Our Town depicts the townspeople's daily lives, love and marriage, and death and eternity.
Auditions for the play were held in early February, and directors Joni Russo and Janet Rosano were very eager to put this production together, holding two performances on Friday, March 31, and Saturday, April 1. "Our Town is twofold," Russo explained. "It is a classic, it is a Pulitzer-prize winner piece of work from Thornton Wilder, but it also gives a lot of people an opportunity to act and be onstage." Rosano commented, "There was never a moment's doubt that the people that we chose would do a great job here. It was obvious right from the beginning who fit into each role." Russo agreed: "It was one of the easiest things we probably ever casted."
Many of the cast members who auditioned for Our Town were enticed by the challenge of performing in a play, especially one like this. "I chose to do Our Town for a few reasons, the most prominent being that I love the experience I had with the musical prior to the play, which was Anything Goes," explained freshman Sophia Schoen, who played a citizen in the production. "I had also never acted in a play with no music, so I wanted to try something new within my passion for acting and theater as a whole." Senior Sophia Scorcia, who played the part of Constable Warren, loved how Thornton Wilder went about creating the play. "By using minimal props, Wilder made you focus more on what was happening in each scene and how it all tied together to create a larger story." Sophomore Liam Mylan, who played Professor Willard, added, "I liked the morals and the message that the play conveyed–it gets the audience thinking about the lessons of life that we can all learn from." He noted the play's prominent theme of "living life to the fullest." 
The production was indeed full of thematic messages like these. Opening on an early morning, the Stage Manager—played by senior Lola Sokolskiy—takes the audience through the daily lives of Grover's Corners citizens. Watching two mothers cook breakfast for their families, parents talking to their children about beauty and responsibility, and planting the seeds of a lifelong romance are just some of the ordinary yet wonderful events depicted in the first act. "The play had a strong message about appreciating the small moments in life and how they are just as significant as the big moments. I thought this was an important reminder for all of us to cherish the present moment and not take things for granted," Scorcia explained. 
After a ten-minute intermission, the second act commenced, starting much like the first act with Mrs. Gibbs and Mrs. Webb—played by seniors Alyssa Inserra and Grace Benedict, respectively—cooking breakfast for their families; however, this morning is a special one, as their children are going to get married. George Gibbs, played by freshman Jackson Reiser, is a bright-eyed, enthusiastic young man, eager to marry Emily Webb, played by senior Mia Rinaldi. The romantic connection between the two characters is explained by the Stage Manager and portrayed through a flashback to their high school days. After expressing to George how he has become stuck-up and conceited as he has grown older, Emily becomes upset; she has grown very fond of George. Feeling the same way about Emily, George takes Emily to get an ice cream soda to make her feel better and celebrate their election as president and secretary of their high school class. As they converse, the two realize their love for each other and desire to spend the rest of their lives together. 
When asked to describe Our Town, Reiser explained, "It isn't a very flashy or loud show, but it is something you have to think about. It is a simple production with a deep meaning, and that's what makes it special. Our Town seemed like it would be an exciting challenge."
After George and Emily tie the knot "in a mighty public way," the second act ends. The play's final act, Death and Eternity, is arguably the most famous part of the production, and the most emotional part, too. Like the two preceding acts, the Stage Manager opens the scene with a monologue—the longest in the entire play. 
"My favorite memory might have been on closing night, which happened to be my eighteenth birthday, when I felt as if I nailed my 'big boy' monologue—the act three opening," remarked Sokolskiy. "I was so proud of myself."
Depicting the Grover's Corners cemetery to the audience, Sokolskiy explained the eternity that lives within "every human being" and how the people who have passed on are "waiting for something big and important" to come. Audience members watched as Emily Webb—who had been newly married in the second act—entered the company of the dead in the cemetery after passing away during childbirth. Recognizing her mother-in-law, Mrs. Gibbs, Emily talks about her life before she died and how it seems so distant. After some of the dead remark about the weather, Emily wonders what it would be like to return to the land of the living. She is advised by Mrs. Gibbs, the Stage Manager, and other members of the dead not to, as she would "know things that they down there will never know." 
Nevertheless, Emily is persistent and returns to life one final time. She is taken through the morning of her twelfth birthday, fourteen years ago. She sees the milkman Howie Newsome, played by junior David Barrere, converse with Constable Warren and the paperboy Joe Crowell, played by freshman Nicholas Sferrazza, outside in the February cold. Emily is saddened as she realizes that Constable Warren is dead; however, she is relieved to see her mother come downstairs to make breakfast and her father return home. Emily talks to her mother, who is busy at the stove, and realizes that life goes by too quickly. "We don't have time to look at one another," Emily expresses. 
This leads into Emily's final monologue, one of the most famous in the play, where she gets "one more look" at the world, saying farewell to Grover's Corners, her loved ones, and life's little pleasures, like "food and coffee," that are often overlooked in daily life. Ultimately, Emily returns to her grave, realizing that " [living] people don't understand very much." This is asserted even further when, at the act's conclusion, George returns late in the evening to Emily's grave and breaks down on his knees. 
Nevertheless, in Grover's Corners, life still goes on. The Stage Manager closed the show saying that some folks are "setting up late and talking" even as the stars shine bright in the sky. With that, Sokolskiy bade the audience farewell, wishing they "get a good rest, too." 
With the play's poignant ending, the cast and crew felt sad to say goodbye to Our Town–especially the senior members, who had to deliver a final farewell to the drama club. "I am not known for crying at the end of shows—I usually physically can't—but this one was different," Sokolskiy remarked. "In act three, I was just on the verge of tears. As I executed my final bow in Lynbrook, tears strolled down my face." Benedict expressed that closing night was bittersweet. "The drama club has been such a big part of my life, and I'm so sad to say goodbye. I'm so grateful we got to do one last show," she said.
"I was reflecting on the past four years and was almost in denial that this would be my last show at LHS," remarked senior Emily Pozolante, who played a citizen and dead person. "I also felt extremely grateful for all the people I met, the experiences I had, and how much knowledge I gained. To be surrounded by positive energy every day was incredible, and I'm grateful for being able to work with such amazing people!" Senior Andrew Schiller, who played the part of Doctor Gibbs, feels similarly: "My favorite memory from the show was coming together one last time with my friends to put on a great performance."
"I was really sad that we're going to be losing all of the seniors next year," expressed freshman Daniel Berrios, who played the part of Si Crowell. "All of them are such kind people and super talented. I'm really going to miss them next year!" Sokolskiy concluded, "I'm saddened to leave LHS drama, but I'm glad that we left with an excellent and beautiful show."
About the Contributors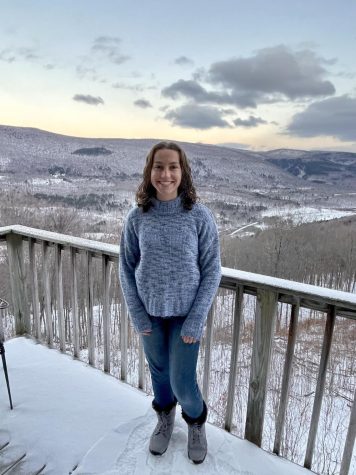 Alyssa Inserra, Driftstone Editor-in-Chief
I am a member of the Class of 2023 and the Driftstone editor-in-chief. Along with creative writing, I enjoy spending time with family and friends, getting...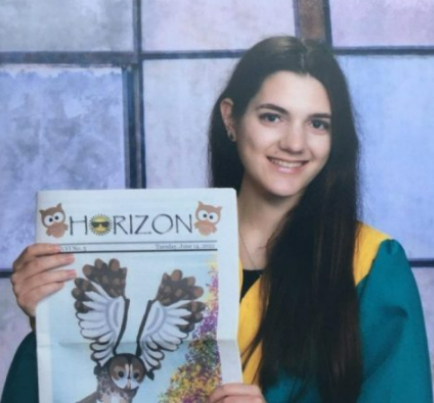 Kate Chiulli, Print Editor-in-Chief
I am a member of the Class of 2023 as well as one of the editors-in-chief of the print edition of Horizon. I enjoy reading, playing the violin, and using...