Sweet or Sour: Everything We Know About Olivia Rodrigo's New Album
With May underway, the two-year anniversary of Olivia Rodrigo's debut hit album Sour is coming up quickly. Since the release of her single "Drivers License," Rodrigo has experienced widespread popularity and grown from a Disney Channel star to, as some might say, the new generation's Taylor Swift. In Sour, Rodrigo wrote about her experience with her ex-boyfriend, who the internet believes to be Joshua Bassett; the album takes listeners through the five stages of grief that she went through after the breakup. There are songs for just about every listener: angry rock anthems, sad ballads, and songs to scream with the windows down during the summer.
Since the release of Sour, Rodrigo, although active on social media, has not been vocal about any release of new content. The only new music fans have been able to get their hands on since the album's release is a cut song called "Strange." That is, until now. In a Spotify Wrapped message, Rodrigo confirmed to her fans that new music would be on the way in 2023. In her statement, she thanked her fans for listening to her music in 2022, saying that she "couldn't be more grateful." She continued by saying, "I'm so excited for next year and all of the new things and new music that 2023 will bring, so I'm sending so much love your way." 
This confirmation of new music on the way engaged and excited fans. "I have listened to her music, and I do like her. I think she should release more music," said senior Ava Murello. Much like other fans, she is excited for new Olivia Rodrigo music and cannot wait to see what the year brings. Junior Emma Ben has also enjoyed Rodrigo's music in the past and is excited for what is to come. "I have listened to Olivia, and I do like her. I prefer her older music, but I do think she should release more music," she said.
Shortly after this announcement, Rodrigo started to tease her new songs more often. On the anniversary of the release of "Drivers License," she posted a video clip of piano music on her Instagram story and wrote a message to her fans: "Working on so many new songs I'm excited to show [you]!" With more and more signs pointing toward a new album, listeners will hopefully be able to listen to it soon.
The album is still in its early stages, and there is not much information that fans can find yet; Rodrigo has not been very vocal about it, and nothing has been confirmed or denied. That being said, some things can be assumed about "OR2," as fans call it. In an interview with Clash Magazine, Rodrigo said that her new album will be "a lot happier than the record I just made" and mentioned that her different tastes will be reflected in the album. Additionally, since Sour's release, fans have been conspiring about the title of this new album. Perhaps, she will stick with the taste-oriented names and name her new album Sweet; However, Rodrigo only told fans that she is "still kinda working on the rest of it."
Some people, while not fans of her originally, are excited for what Rodrigo plans for her album. "I have never personally looked up Olivia Rodrigo songs, but from what I hear, they seem really catchy and cool! I think Olivia Rodrigo should release new music. A lot of people really liked her Sour album, I believe, and she seems to have that young spirit/music a lot of kids are looking for," said junior Chloe Singh. While Singh was not a fan before, she is eager to listen and understands the appeal of Rodrigo's music.
Despite the recency of the announcement and the lack of information about Rodrigo's new album, fans can only hope that "OR2" will be just as exciting, catchy, and fun as Sour was.
About the Contributor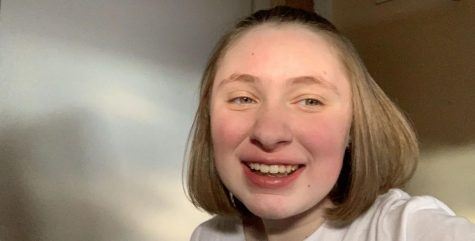 Kerry Cullen, Driftstone Editor-in-Chief
I am a member of the Class of 2024 as well as a managing editor for Horizon. I like to write, read, sing, and act. One fun fact about me is that I love...