Eating and Entertaining this Easter
Easter is fast approaching! Here are some crafts and recipe ideas to celebrate.
First, crafts, beginning with the most popular: egg dyeing! 
Items needed (according to McCormick.com):
    Eggs

    Clear plastic cups

    Liquid food dye

    White vinegar

    Spoon

    Slotted spoon, wire egg holder, or tongs (to remove eggs from dye)
To dye the eggs:
    Boil eggs.

    Cool eggs under cold water.

    Mix ½ cup boiling water, 1 teaspoon vinegar, and 10 to 20 drops of food coloring in a

clear, plastic cup. Repeat this step with all desired colors.

Use a slotted spoon, wire egg holder, or tongs to add and remove eggs from dye.

Allow eggs to dry.
Alternatively, a kit can be used, or eggs can be dipped in shaving cream to create a marble effect. Clothing and cooking teacher Karen Goulet remarked, "Dyeing Easter eggs was always my favorite thing to do! I don't do it anymore, though, because my children are older. I want to try using silk ties to dye the eggs. I have read about this technique where the egg is wrapped in the tie and the pattern transfers to the eggshell." Art teacher Michael Kunz added, "In my family, we do the usual Easter activities and crafts. We color eggs every year and do an Easter egg hunt for the colored eggs on Easter morning. The Easter egg hunt is always fun because [it has] been part of Easter for my whole life.  Easter egg hunts would get pretty competitive in my family growing up.  Now, with my hunting days behind me, I now hide the eggs. When it comes to hiding the eggs, I put two or three in very easy spots.  The others I like to put in spots that are almost impossible for my kids to find.  The hardest part is remembering where I hid them."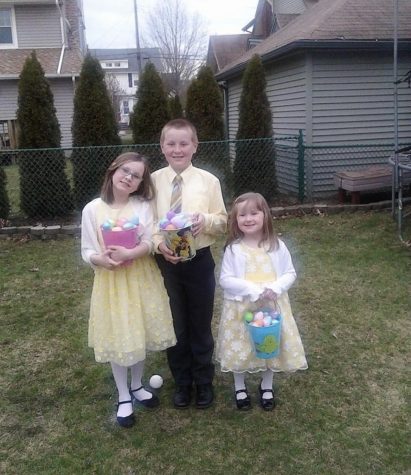 Furthermore, people put together Easter baskets for their friends and family. As explained by Good Housekeeping (goodhousekeeping.com), common items to put in the baskets include bath bombs, candy, chocolate, dino eggs, Legos, Mad Libs, coloring books, makeup, and other little trinkets, depending on the age of the children. Easter gift baskets are often packaged with crinkle cut stuffing paper and wrapped in cellophane. The gift baskets themselves range in size, shape, and color. Goulet said, "I still make Easter baskets for my boys with candy treats and other goodies. We spent many years in Lancaster, PA at Hershey Park for Easter. I miss those days. I have fond memories of Easter morning from when I was a child. It's not a fussy holiday. It is a colorful and joyful occasion." Sophomore Jackie Thayer commented, "In an Easter basket, I would include bright colored paper mache, Easter eggs, stuffed bunnies, chocolate bunnies, bright colored candy, and peeps. My favorite Easter DIYs are making DIY Easter eggs and bunnies. I like to make DIY Easter eggs and bunnies with my friends and family. My favorite treats are chocolate bunnies and peeps."
Now for some yummy recipes. First up, deviled eggs for an appetizer. This is a classic deviled eggs recipe produced by Alex Witchel from The New York Times. These decadent deviled eggs can be whipped up in just 45 minutes.
Ingredients for 12 Egg Halves:
6 large eggs

1 teaspoon Dijon mustard

1 to 2 dashes Tabasco sauce, to taste

Salt, to taste

¼ teaspoon freshly ground black pepper

1 tablespoon snipped fresh chives

3 tablespoons mayonnaise

Paprika, for garnish

Whole fresh chives, for garnish
To make deviled eggs:
Rinse eggs with warm water and place in a small saucepan. Cover with cold water, place the pan over medium-high heat, and bring to a boil. Turn off heat, cover, and let sit for 10-12 minutes. Drain, rinse under cold water, and peel. Cool in the refrigerator, loosely covered, for 15 minutes.

Halve eggs lengthwise, and carefully scoop out yolks. Place yolks in a bowl and mash with a fork. Add mustard, Tabasco, salt, pepper, and snipped chives. Stir in mayonnaise and add to a Ziploc bag.

Cut off the tip of the Ziploc bag and fill each egg white with about 1½ teaspoons of the egg-yolk mixture and dust the top with paprika. Arrange on a platter and garnish with whole chives.
Now for a sweet treat! Robert Clinton from Food Network's tasty carrot cake recipe, every bunny's favorite. 
Ingredients for Cake:
    2 cups granulated sugar

    1 ½ cups vegetable oil

    4 fresh whole eggs

    2 cups pastry flour

    2 teaspoons baking soda

    1 teaspoon salt

    2 teaspoons ground cinnamon

    3 cups raw finely ground carrots

    4 ounces finely chopped walnuts
Ingredients for Frosting:
    1 ½ pounds powdered sugar

    12 ounces room temperature cream cheese

    1 tablespoon vanilla extract

    2 ounces room temperature margarine
Baking Instructions:
First, preheat the oven to 300 degrees Fahrenheit.

Next, in a mixing bowl, mix sugar, vegetable oil, and eggs. In another bowl, sift together flour, baking soda, salt, and cinnamon. Fold dry ingredients into a wet mixture. Fold in carrots and chopped nuts (optional) until well blended. Distribute batter evenly into 3 (9-inch) greased pans. Bake for 50 to 60 minutes. Cool layers in pans, for about an hour. Store layers in pans, inverted for 24 hours.

To remove layers from the baking pan, turn upside down and tap the edge of the pan on a hard surface. Then, put it onto a cake stand.

For the frosting, place powdered sugar, cream cheese, vanilla, and margarine in a large bowl. Beat at second speed until thoroughly blended. Hold refrigerated and use as needed.

To assemble: Place the first layer, bottom side down, at the center of the cake stand. With a spatula, evenly spread approximately 3 ½  ounces of frosting on the layer and repeat for the rest of the layers. Using a spatula, spread the remaining frosting on the top and sides of the cake. Refrigerate until served.
About the Contributor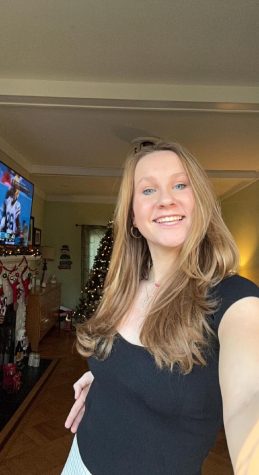 Katy Gottlieb, Editor
Hi, my name is Katy Gottlieb, and I am a member of the Class of 2025. I am currently the A&E section editor for Horizon and I am also a part of the...