What LHS Students Would Like to See in Vacant Storefronts
Students at LHS enjoy having the privilege of going outside of the school building for lunch and going to places to hang out with their friends during free periods. However, students note a lack of places to enjoy meals and hang out during these times. With multiple vacant storefronts within walking distance of the school, what is it students would really like to see here if these businesses were opened?
The current, most popular lunch spots are Sa Vino's, Union Bagels, Dunkin Donuts, Burger Shack, and F&L Deli. All of these are a short walking distance from the school. As a result, these businesses are flooded with students from periods five through eight each day. Students complain, however, that these are not enough options. Freshman Kyle Grisales said, "There could be more options, and sometimes I get tired of it being so repetitive."
The vacant business that gives LHS students the most hope is the empty former pizzeria at the corner of Union Avenue and Roosevelt Street. This would be the closest possible lunch/hangout location for students, only steps from the school. The shuttered pizzeria is mostly used as storage for boxes, tables, chairs, and random things from Union Bagels. This empty pizzeria has been closed for at least seven years. Many students wonder what will happen to this spot, and if it is possible to open after being used as storage for so long. However, others are optimistic and think of what could be, like freshman Ryan Mangru, who said, "I would like to see something like a Chick-Fil-A, Popeyes, or even a barbecue place."
A sign that students are tired with their limited options within walking distance is that they are willing to drive to get their lunch and to hang out with their friends farther from school. It has long been that upperclassmen leave in their cars to take a break from the repetitive lunch menu. However, not all students are able to drive to McDonald's on Merrick Road or Starbucks on Sunrise Highway. Mangru said that a Chick-Fil-A or other popular franchises being closer to the school would be beneficial for the majority of students who do not have cars. Freshman Kaitlin Manasakis agreed: "There should be a Wendy's on the south side since there is already one on the north. There is not enough variety."
Freshman Andrew Callaghan said, "There should be more places to hang out. There is nowhere to go other than your friend's house." Sadly, in November 2018, one of Lynbrook's few and beloved hangout places was closed: Fun Station U.S.A. This spot was closed after operating for 20 years in Lynbrook. It was a place where most students remember having their birthday parties or spending time with their friends. Fun Station U.S.A. was the only arcade in Lynbrook that also included rides for children as well, and it even had its own station for bumper cars. These rides would be the main attraction of the arcade, and young children and teenagers loved it. The building was auctioned off later in December of that same year that is closed and is to be turned into a storage facility with its neighbor, Hot Skates. Hot Skates was closed in March 2019 after being in business for over 40 years. This was also a popular place to go on field trips, spend time with friends, and host birthday parties. It came as a surprise when the business finally closed because of its popularity and how it was also used in some TV shows and movies over the years. The last adult night at the rink was very popular, and people from many different places came. The two neighboring businesses still sit empty, a waiting renovation for CubeSmart, and it serves as a reminder of the places that were lost in Lynbrook. Mangru commented on the few hangout places: "It is not really a problem because I don't go out a lot, but if I did, I would want more. Places would be able to get a lot of businesses because of the amount of students that want to go places."
With the lack of lunch places and hangout spots for the students of LHS, it is understandable why many dream when they pass their closed businesses near school. Students hope for a bigger variety in places to go eat and hangout. Hopefully, more options will be available.
About the Contributor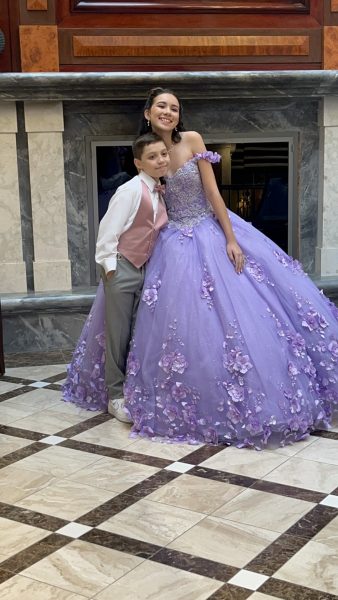 Sophia Woods, Contributor
Hi! My name is Sophia Woods, and I am a member of the Class of 2026. I am a contributor for Horizon and Driftstone. In my free time, I love reading, writing,...