Athlete Spotlight: Chris Benson
The winter sports season has ended, but senior football player and wrestler Chris Benson has certainly not slowed down a bit. Benson has shown up and showed out this year, giving 110% into everything he put his mind to.
Starting his football career at the age of eight as part of the Lynbrook Titans, Benson showed great admiration for the sport and has played ever since. Along with football, Benson has been a part of the wrestling team for three years. This last year, Benson has dominated in both sports, winning 10 wrestling matches this season and being an integral part of the five games won by the varsity football team. Alongside the regular season wins, he and the team made it to the quarterfinals. When asked how it was playing his senior year, he said, "It was the most fun I've ever had. It was an awesome experience, and I'm happy I did it." 
After a tough football season his junior year and not getting many touchdowns, Benson worked harder than ever and proved that he was fit to fill the runningback position on the varsity football team this year. "He committed to the weight room and to watching films of games," explained varsity football coach David Yaker. "He was voted by the coaches as Most Improved Player of the Year," Yaker added. His determined attitude followed him into the winter season as he took the wrestling mat. "I love that there is always something to learn [with wrestling]," Benson said. "This sport has taught me a lot, especially because it's such an independent sport." Not only does Benson manage football, wrestling, and the training for both sports, but he also takes jiu-jitsu classes outside of school. 
Although his hands are full, Benson finds a way to thrive under the pressure. He has been supported by family, friends, coaches, and teammates throughout his athletic career. His biggest inspiration is his brother: "It is great to see him follow in my footsteps in both football and wrestling. I can't wait to see what he does next."
While games and matches are often intense, Benson has learned to find joy and make his experience on both teams one to remember. "Some of the best memories were being on the field with my teammates. Nothing beats that," Benson described. "And the feeling of being on the mat is unparalleled."
Although both football and wrestling season have come to an end, it is clear that Benson has made his mark at LHS. "Chris was a pleasure to coach and made the most of his opportunities. He was unquestionably a key individual to the success of the team this year," Yaker furthered. After never giving up and always giving it his all, he has demonstrated willpower and has grown as not only an athlete but an individual.
About the Contributors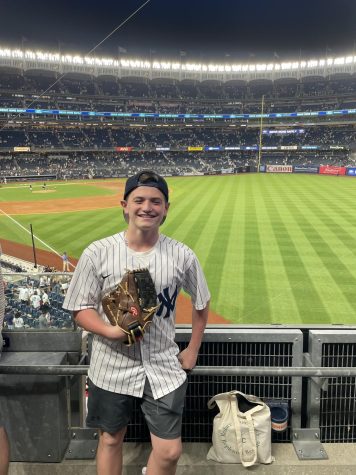 Sean Strohofer, Managing Editor
My name is Sean, and I am a member of the Class of 2025. I have a deep desire for sports and writing, so you might see me at sports events around town!