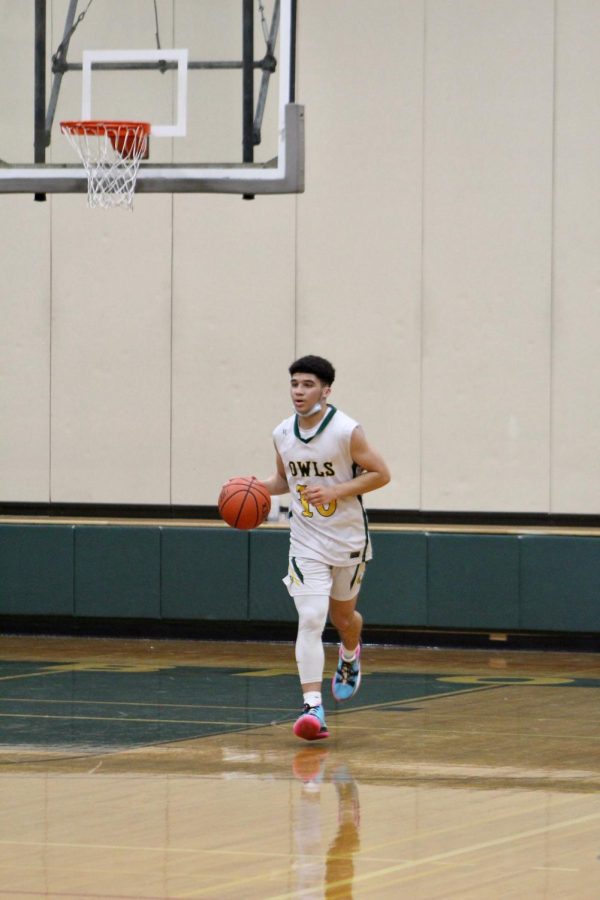 Photo courtesy of Payton Stalter
Basketball has had a prestigious reputation throughout Lynbrook, and the team is coming off an undefeated 2020 season. The team's success would not have been possible without last year's senior class, and now that they have graduated, there are many questions to be answered regarding the empty spots in the Owls' rotation. Fortunately, Coach Jamie Adams is not afraid to test out the new seniors' abilities.  
"The expectations for our program have always been the same," Adams said. "We want to compete for a county championship. Everything we do is in preparation for that goal."
Adams said, "The seniors will be instrumental in achieving our goal, as four of the returning seniors this year (Haris Cekic, Richard Correa-Lampasona, Peter Donnarumma, and Sean Lengyel) will be looking to fill in the empty spots. These seniors saw a substantial amount of playing time during 2020. They will be looked upon to provide leadership both on and off the court for us."
Senior Dylan Stalter shared his hopes for the season: "I am very excited about this season. The expectations are high, but we have a lot of talent, and we're willing to put in the work." 
When faced with a question about the empty spots left by last year's seniors, Adams replied, "Replacing two players like Mike Frank and Thomas DeMenezes, who were big contributors to our success last season, will not be easy. We will look to players like Sean O'Donovan and Will Krapf to pick up some of the slack." Adams would also like to incorporate juniors Eli Sherman-Murphy, Ryan Shapiro, Brian Sugrue, and Max Cordes into the rotation as well. Sherman-Murphy was pulled up from junior varsity last year, and he had an incredible sophomore season at the varsity level. 
Cekic, who put up eight points and eight rebounds in last year's COVID-shortened season, is looking to build off of last year and fill in the open roster spots to the best of his ability.
Cekic has high expectations for this year. "I want to win basketball games and bring the championship back to Lynbrook," he said. "The seniors from last year were great, and they helped us go undefeated. I am prepared to fill those open spots."
Correa-Lampasona, gave his input on the upcoming season with on expectations and filling the open roster spots. Correa-Lampasona put up 10 points and 6 rebounds in last year's season. "I have very high expectations for our team," said Correa-Lampasona. "We are coming off an undefeated season, and I think that we have only gotten better. We did not have an opportunity to show what we could do in the playoffs, so that gave us a bit of hunger."
"While losing great players like Michael Frank and Thomas DeMenezes is definitely tough, our depth as a team will definitely make up for it, " adde Correa-Lampasona. "Everybody on this team works hard and loves basketball. No one is on this team on a whim."
Lengyel does not plan to have a bad season. "My expectation for this season is to continue our eight-game win streak after finishing 8-0 last year. We are working hard every day to make each other better and prepare for the 19-game season. I expect us to go far and be very successful with the amount of talent we have, said Lengyle. "I will look to fill in the spots that were left open to the best of my ability, along with being more of a leader for the new varsity players. We have a lot of talent this year, with guys who can step up when needed. Filling the open spots shouldn't be a problem for this team."