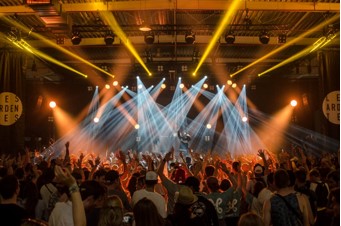 Live shows and concerts are finally being revived in the state of New York as the 14-month ban on large-social gatherings has been lifted. These social distancing efforts drastically affected some of the charm that New York is known for, including live performances, Broadway musicals, and concerts. Never-ending cancellations and rescheduled events became an unfortunate byproduct of the pandemic. Recently, Governor Andrew Cuomo set forth new policies regarding the renewal of large gatherings. It is the light at the end of a tunnel, and, finally, fans have the opportunity to experience live performances instead of streaming from their living rooms. 
Cuomo recently announced the state's new policies at a news conference, which went into on Apr. 2. Several arts and entertainment venues were able to be reopened at 33 percent capacity, and were limited to 100 people indoors or 200 outdoors. If all event attendees tested negative for Covid-19 prior to the event, the guidelines were able to be increased to 150 people inside and up to 500 outside. In May, Cuomo announced the highly-anticipated lift of the mask mandate outdoors for New Yorkers who have been fully vaccinated. A handful of venues announced that they would be holding ticket sales for new events. Additionally, artists were finally getting their long-awaited chance to go on tour so fans would finally get the opportunity to watch. 
With the constant increase of Americans getting vaccinated, as well as vaccination eligibility expanding to people of younger ages, it is the hope that the spread of the virus will slow, and eventually become eradicated. What does this mean for concerts and live events? Unfortunately, many top-selling artists—originally planning to embark on large tours — have rescheduled or cancelled their gigs altogether. Those who have rescheduled their tours opted to swap out larger venues for smaller, more concise ones, and have even pushed their tours back to the end of 2022. For this reason, smaller outdoor venues have a much better chance of holding live events this year. 
 Jones Beach's outdoor amphitheater, located in Wantagh, is one of Long Island's staple locations to view a live performance; the venue is completely outdoors, and can hold up to 15,000 attendees. In years past, the site has held concerts for country artists like Zac Brown Band, Toby Keith, and Luke Bryan. Pop artists like Kesha, Macklemore, Gwen Stefani, and the Long Island legend himself, Billy Joel, have also performed at Jones Beach. The venue is utilized mostly during the summer season because of close proximity to the beach and outdoor seating. 
 After hearing the lineup concerts being held at Jones Beach this summer, freshman Marino Grillo said, "I cannot wait to go back. I have been longing to see a live performance, and hope I can go this summer." The lineup of artist performances was released in February, even before Cuomo gave the green light for the return of concerts. Although a preemptive move, tickets went on sale in May after event policies were updated and confirmed. According to the venue's official website, there are 17 acts in the 2021 repertoire, starting off with the band Chicago on July 14. Other artists include Thomas Rhett, the Dave Matthews Band, and Rod Stewart. The lineup concludes with the rock band Kings of Leon on August 25.
Citi Field, the home of the New York Mets, is located in Flushing, Queens, and is another iconic venue for New York concerts. The stadium is much larger than Jones Beach, and when at full capacity it can hold over 40,000 people. The stadium has been in use for the current baseball season and has recently allowed fans to attend games in person. According to the official MLB website, about 20 percent of fans are allowed in the stadium, the equivalent of roughly 9,000 attendees. Seats are sold in a "pod" format; sections of seats are sold in clusters and are distanced throughout the stadium. 
Although the stadium is primarily used for baseball, it has hosted concerts for some of the world's most iconic artists, and this year, many new events are scheduled. Many bands will perform at the amphitheater: Green Day, Fall Out Boy, and Weezer, to name a few. The Governor's Ball Music Festival has also been scheduled to take place this summer; the festival is a three-day concert with 50 artists performing, such as Billie Eilish, A$AP Rocky, Post Malone, 24k Golden, 21 Savage, and Megan Thee Stallion. Tickets for the event are currently on sale. 
Freshman Juliet Wrezesniewski commented, "I am really hoping that this concert does not get canceled or rescheduled. I have been waiting to see a concert for over a year and really want to see my favorite artists perform."
Additionally, The Capitol One City Parks Foundation SummerStage, one of the longest-running music festivals, is scheduled to reopen this summer. Located in New York's Central Park, the SummerStage is a seasonal outdoor venue that has held many events. The City Parks Foundation is the nonprofit organization that runs the SummerStage concert series, and it recently announced in-person ticketed events that would occur this summer. Typically, events held at this venue are free, but the addition of tickets helps maintain the city's guidelines and keep everyone safe. Artists like Machine Gun Kelly, Kane Brown, and more are set to perform. The venue is mandating strict policies to ensure that these events happen and do not get cancelled; attendees must be prepared to take part in health screenings, as per Central Park guidelines. 
NBC's The Today Show has also provided fans with a free outdoor venue, Rockefeller Plaza, where some of the music industry's most iconic artists have performed. Even before the pandemic set in, these concerts were open to the public, and if fans wished to attend, they had to arrive at the location early to secure their spot; some fans lined up days before the concert was scheduled to happen, just to be in the front row. All performances were broadcasted on The Today Show so fans at home could watch; however, the concert was much more memorable in person. 
Freshman Marisa Parco, who regularly watched live streamed concerts during the pandemic, said, "I am so desperate to see a concert in person. They are so amazing, and I can't even imagine being that close to my favorite artist." These live performances came to a halt during the pandemic, as news anchors of The Today Show filmed the event from home. After months of separation, the anchors reunited earlier this year, and the show was back to being recorded in studio. 
It was recently announced that there would be a summer lineup of artists who would perform in Rockefeller Plaza, starting with OneRepublic on May 6. Other artists include Maroon 5, Ben Platt, and Coldplay. All in-person performances will abide by social distancing guidelines, and fans will be able to attend in small, limited groups. All concerts will still be broadcasted on The Today Show, so all fans can experience the live events at home.