Shooting in West Hempstead Causes Lockdown
Gabriel Dewitt Wilson killed one and injured two at the Stop & Shop in West Hempstead on Apr. 20. Wilson had been employed by the grocery store as a cart handler. According to MSN News, Wilson was taken into custody after hours of running. Wilson was said to have a history of mental illness. Sophomore Isabella Gazzola said, "I was very sad and scared to know that people were killed by this tragedy that took place so close to where I was. Things like this make me realize how everything can happen, no matter how unexpected. Hopefully, this will not happen again, and if it does, people will be more prepared, and no one will be hurt."
Wilson was charged with second-degree murder and four counts of attempted murder. According to MSN News, police said that "the weapon has not yet been recovered, and it is unclear still how Wilson obtained it." Wilson pleaded not guilty; his attorney originally tried to blame the incident on a previous gunshot wound to Wilson's head that he sustained when he was 19.
The Stop & Shop store announced that it is going to establish a "West Hempstead Compassion Fund" for those affected. According to MSN News, all three victims were employees of the grocery store. Stop & Shop has decided to donate $500,000 dollars to the fund and provide financial assistance for funeral expenses for Ray Wishropp's family. Wishropp was the store manager killed in the shooting. In the MSN News article, Stop & Shop provided a statement: "We are heartbroken by the violence that occurred at our West Hempstead store. We are mourning the loss of our beloved team member, Ray Wishropp, and praying for the full recovery of our two other injured associates. We are very grateful to the first responders for their heroic actions. In addition to providing grief counseling and support for our associates, Stop & Shop is also providing financial assistance for funeral expenses and other needs. We have also established the West Hempstead Compassion Fund. Stop & Shop is contributing $500,000 to launch this fund, which will be managed by the National Compassion Fund, and 100% of the donations made will go directly to those affected by this tragedy. We are continuing to cooperate fully with local law enforcement on their investigation, and the store will remain closed until further notice."
In response to the incident, schools in the surrounding area, including Lynbrook, were sent into a lockout by the Department of Homeland Security. The lockout allowed Lynbrook students to proceed as normal inside the building, but students were not allowed to leave or enter the building during this time. Junior Michael Papini was in his period 7 class when the lockout was announced. "I was nervous and very curious as to what had happened. Before the news released details, no one had known what had happened. I was worried about the students outside of the school and at lunch. I did feel safe in the school because I knew the danger was outside," said Papini.
Many students were not in the building during the period 7 lockout. They were not allowed in the building and had to stay where they were and try to remain safe. Junior Lexi Capitali was outside the high school during period 7. Capitali shared, "I heard the kindergarteners' announcement that they had to go inside, but I didn't think much of it. I was also getting notifications on my phone about the shooting, but I did not put the two together. I was at lunch with my friends when I heard about the lockout, and I texted my parents to tell them what was going on because I was afraid. Since I could not go anywhere, I watched the news from my lunch spot, and we found out [the shooter] might have gotten on a bus. This made us all very nervous because the place we were eating at is right near the bus stop. After that, we left to meet up with our other friends and went back to the school when we could."
The lockout was shortly called off before the end of period 7, and students went about their day as normal.
About the Contributor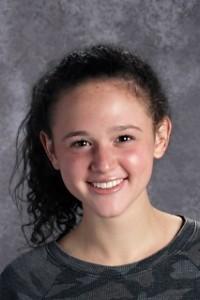 Rachel Belmont, Editor
I am a member of the Class of 2022. I have a brother, Jake, who is two years older than me. I enjoy playing sports such as soccer and lacrosse.