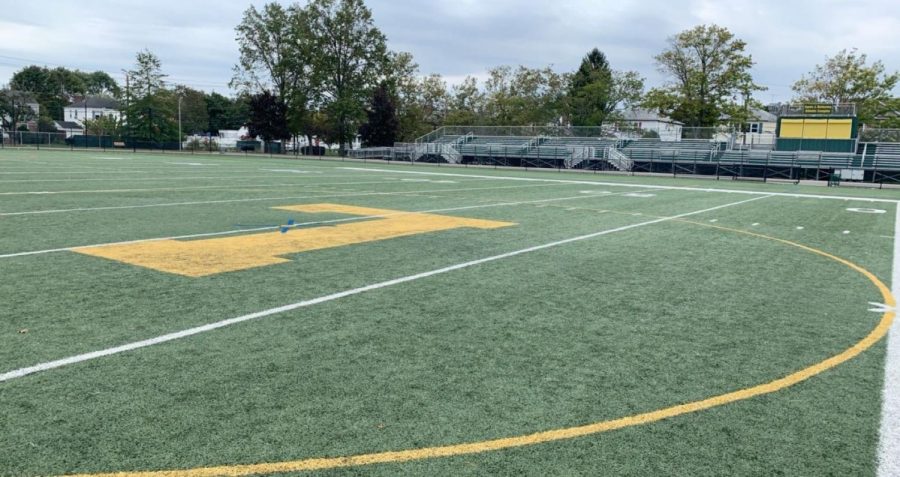 The cancellation of New York State high school sports this year meant that LHS was missing out on one of its most beloved annual events: the homecoming football game. Lynbrook, as a community, is filled with school spirit; the homecoming court is typically paraded in by the marching band, and spectators watch the varsity football team compete for a victory at the Marion Street field. What makes the homecoming game unique and exciting is the fundraising held for the senior class; tickets, food, and apparel are sold at the game, and the profits go towards the Lynbrook PTA's scholarship fund, which has raised over $150,000 over the past ten years, benefitting hundreds of students.
Due to the postponement of the school sports to uphold coronavirus safety protocols, there was no one playing at Marion Street this fall. No tickets and shirts were sold, which, unfortunately, meant that no scholarship money was raised; it was just another bad break for the Class of 2021.  Homecoming is the PTA's biggest fundraiser each year, so it was disappointing to not have the scholarship game this past fall.  
Thankfully, the PTA stayed resilient and would not quit on raising money for the senior class that has already endured so much. "They have already missed so many of the things that make senior year special, including homecoming," said PTA member Megan O'Donovan. "We feel that it is more important than ever to recognize them for their hard work and for the accomplishments they made at LHS," added O'Donovan.
Board members recently proposed using the current construction at the high school as a means of fundraising, which was approved by the district. This idea gave way to the "Pave a Path to the Future" fundraiser, which will sell engraved, customizable bricks to recognize Lynbrook alumni, friends and families, and local businesses. "We felt it was an exciting way not only for our current families, but for alumni, staff, community members, and local businesses to feel connected to Lynbrook for years to come," said PTA member Lauren Pignataro.  These bricks are to be added to the path of the Lynbrook High School expansion wing, which is projected to be completed by the end of 2021.  
In other good news, a full return to school sports appears to be on the horizon for 2021. The Section XIII Superintendents Athletic Council was one of the first in New York State to vote against the original plan of a return this past September. New York was one of fourteen states that did not have a football season this fall and one of four states to not start basketball on schedule. New York Governor Andrew Cuomo had initially pushed back all fall sports to March, but low-risk sports, including boys swimming and winter track, were given the green light to start this January. With the approval of the Department of Health, New York high schools were allowed to resume high-risk sports in February. Teams can, now, partake in low-contact group training and have permission to participate in competitions and events.  
High school football, considered a high-risk sport, is set to resume on schedule.  "Although the season may be a bit different for many of the athletes involved in these sports, the fact that they will be able to get back between the lines and safely join their teammates in friendly competition once again is outstanding," stated New York State Senate Republican Leader Robert Ortt.  
The season may look different but having a high school football season in Nassau County means that a homecoming game for Lynbrook in 2021 is very possible. The homecoming game holds great meaning for Lynbrook residents, parents, and students alike, so being able to have this game would be the perfect start to the new year.