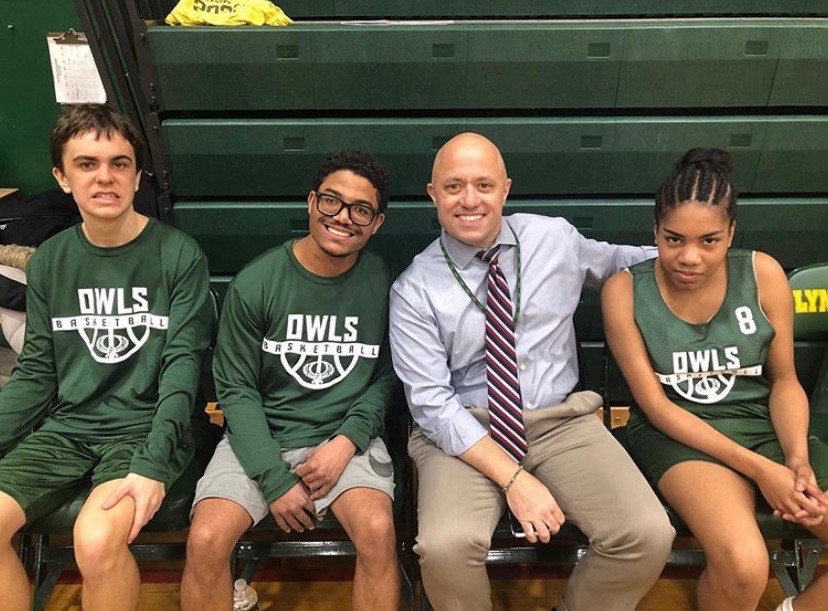 Courtesy of @lynbrooksga on Instagram
"The smiles on the students' faces tell you everything–they love it!" exclaimed Assistant Principal Matt Sarosy. "Our Challenger basketball team is one of the absolute highlights of our building. It is an extremely important program because it promotes inclusivity within the entire school and Lynbrook community. Everyone should come down and check out a game," added Sarosy.
LHS's Challenger basketball team, comprised of ten students in the Career Development Program (CDP), had a blast playing for its sixth year and getting to know teammates and volunteer buddies. The team finished with an impressive record of six wins and two losses, and players continued to expand on their basketball skills at each practice.
Social Worker Rosanne Bogard coaches the team alongside South Middle School Special Education Teacher John Christ. Bogard has been involved in the program since its beginning and continues to be a vital proponent to the team.
Bogard commented, "These students have an opportunity to play a school sport, giving them a chance to participate in home and away games. This is a great opportunity to work on their social skills as well as athletic skills. It teaches both our players as well as their buddies the meaning of inclusion, good sportsmanship, and having fun. Please join us and watch our players!"
As Bogard said, many students on the team have learned life lessons such as the value of teamwork and sharing. Coralie Germaine has been a member of the team for two years and loves to be competitive at the games. Throughout her time on the team, she has learned many valuable lessons: "There are good days and bad days… Always believe in yourself and try your hardest," shared Germaine.
Daniel Knaster is one of the original team members who continues to amaze crowds with his basketball skills such as shooting three-point baskets. He is also a player on the Camp Anchor basketball team over the summer. "It feels awesome when people come see us, like it's something worth playing for when people are cheering you on," smiled Knaster. Other members of the team–Mathew McCormack, Rebecca Yu, and Justin Martinez–enjoy spending time with their teammates and buddies, passing the ball, and competing against other schools at games.
Sophomore Vinny Sullivan volunteers with the team, aiding students on the court and refereeing at-home games. This was his first year with the Challenger team, but he truly enjoys his time with them and hopes to be involved for the remainder of his high school years. Sullivan shared, "My favorite part about the program is how the students play and care for one another, helping each other out on the court. Some of the shyer players have opened up, and I've seen more of their true selves. Being a team buddy makes my days better and is truly an amazing experience."
Sophomore Samantha Guggino has a twin brother on the team, Michael, and attends many of their games. She shared that the crowds at Challenger games are often small, which is disappointing to both the players and their families: "If more people go to the games, it will boost the kids' confidence and make them feel good about themselves." Guggino added that although the games are small, "they have a very positive atmosphere; people cheer for everyone, even the opposing team."
"There is so much spirit and support at the games. The students are all so eager to do well. They cheer on their teammates and are awesome team players," agreed Bogard. The team hopes to gather a larger crowd next season, but in the meantime, the players' positive attitudes and teamwork are not going anywhere.
Unfortunately, the team's last game on Mar. 19 against Calhoun High School was cancelled due to the COVID-19 pandemic. However, the team will not let this bring them down. Watch out, Long Island high schools; the LHS Challenger basketball team is coming back with a vengeance next year!