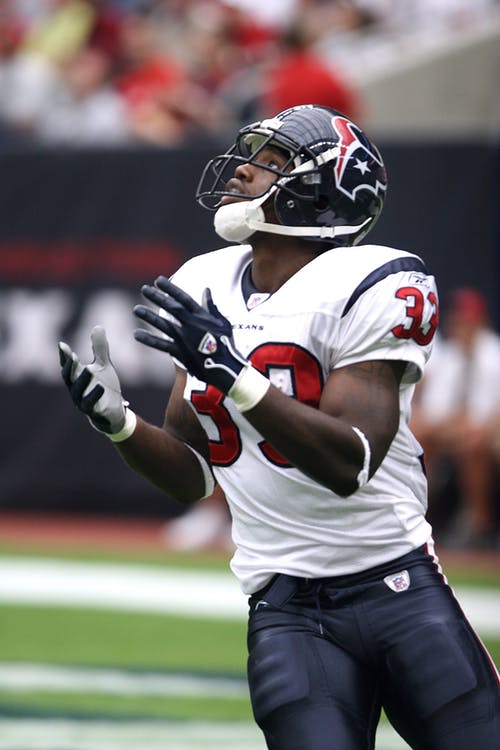 Photo by Pixabay from Pexels
Disclaimer: This was originally written prior to the combine.
With the NFL season coming to a close, the time for teams to improve their roster is only just beginning, and it all is going to center around the 2020 NFL Draft. Many teams believe they are close to contending and are one good piece away from a Super Bowl. This year's draft is certain to produce future superstars, with several "can't miss" prospects, as well as historically good wide receiver and offensive line classes.
Cincinnati Bengals- Joe Burrow, Quarterback, LSU
A no brainer. The rise of Joe Burrow has been nothing short of amazing. Entering the season as a day two or three pick, Burrow went on to have one of the best years in college football history, throwing 60, yes, 60 total touchdowns to just 6 interceptions on his way to a Heisman Trophy and an LSU National Championship. The Bengals have a much needed hole at QB, as Andy Dalton just isn't cutting it anymore. By picking Burrow and pairing him with A.J. Green (assuming he is re-signed), Tyler Boyd and Joe Mixon, the Bengals could very well be playoff contenders next year if they improve their defense in free agency and everything runs smoothly.
Washington Redskins- Chase Young, EDGE Rusher, Ohio State
Another no brainer. Chase Young has a rare combination of power and speed that makes him one of the best edge prospects in recent memory. He has the potential to have a Nick Bosa-type rookie season. Despite being double-teamed in almost every game he played in, Young was still able to produce 16.5 sacks and 21 tackles for a loss this season. Absurd numbers for anyone, let alone someone getting doubled-teams wherever he goes. Young is undoubtedly the best overall prospect on the board, and if it weren't for a QB needy team at number one, he would be the number 1 pick. Luckily for the Redskins, the Bengals need to take a QB, so they should feel very lucky to be able to take Young here at two.
3- Detroit Lions- Jeffrey Okudah, Cornerback, Ohio State
This is where the draft really starts. With the first two picks being virtually guaranteed, the Lions are going to have a very interesting decision at three. There have been rumblings of them wanting to draft Matthew Stafford's replacement in Tua Tagovailoa, or maybe a wide receiver in Jerry Jeudy or a defensive linemen in Derrick Brown. But with Darius Slay's contract expiring next season, and already having one of the worst secondaries in the NFL, expect the Lions to go with Okudah. Okudah is the definition of a shutdown CB, and though he doesn't have flashy numbers, he only had 3 interceptions this season, it is really because the ball is never thrown his way. Okudah will immediately improve the Lions' defense as a whole, and could create one of the best CB duos in the league.
4- New York Giants, Andrew Thomas, Offensive Tackle, Georgia
This is where the elite o-line prospects begin to go. Alabama's Jedrick Wills Jr. and Iowa's Tristan Wirfs are both options here, but Thomas is probably the best out of the three. With a humongous 6'5" and 320 pound frame, Thomas gives Giants perceived franchise QB Daniel Jones some much needed protection when dropping back to pass. He also will allow Saquon Barkley to have much more room to run, which always bodes well for the Giants. While it may not be the flashy pick, it is the pick the Giants need to make, (get a bruiser in the trenches,) that will allow for the success of their two franchise players, which means overall success in the long run.
5- Miami Dolphins, Tua Tagovailoa, Quarterback, Alabama
Easily the biggest wild card in the draft due to health concerns, Tua Tagovailoa could have challenged Burrow for the number-one pick if he was healthy. But right at the end of the season, a devastating dislocated hip ended his season and his chance at the number-one pick. But, with some good injury news, Tagovailoa is still a top-five pick, and would be in a perfect position in Miami, with Ryan Fitzpatrick and Josh Rosen in the fold to play as long as Tagovailoa needs to recover. When he is healthy, he will bring his electric dual threat ability to a Miami team that certainly needs a boost any way they can get and will immediately improve the fate of the Dolphins with the help of fantastic coach Brian Flores.
6- LA Chargers, Justin Herbert, Quarterback, Oregon
Justin Herbert was considered by many to be a top pick in the draft last year had he decided to declare. Instead, he decided to return for his senior season, and while he didn't have a spectacular year, his draft stock is still a mid to high first-round pick. The Chargers are likely to move on from former franchise QB Phillip Rivers and will be looking for an immediate replacement. Herbert would be a perfect fit, bringing his 6'6" frame along with his strong arm to LA to throw to Keenan Allen, Mike Williams, and Hunter Henry. This would be a situation that not only benefits the Chargers, but may also be the best situation for Herbert as well.
7- Carolina Panthers, Derrick Brown, Defensive Tackle, Auburn
The Panthers could also be in a position to draft a QB with this pick, but with the top-three QB's already off the board, they could look to trade down to get one later in the first round, as Jordan Love and Jake Fromm are not worth top-10 picks. For the sake of this mock draft, the Panthers stay at seven, and draft Derrick Brown. He will help a Panthers o-line that is aging and not the same anymore as Dontari Poe and Gerald McCoy are aging. Brown will add some youth to an older defense and will give the Panthers a run stuffer on defense. With the retirement of Luke Kuechly, Clemson's Isaiah Simmons could also be an option, but overall Brown is a more likely pick here if the Panthers stay where they are.
8- Arizona Cardinals, Jedrick Wills Jr., Offensive Tackle, Alabama
The Cardinals are in a very good spot as a franchise. A young superstar QB in Kyler Murray, a solid running back core in David Johnson, Kenyan Drake and Chase Edmonds and some young WR's in Christian Kirk, Andy Isabella, and Hakeem Butler. Adding an OL to the fold will but the icing on the cake for the young Cardinals offense. Jedrick Wills Jr. was a bruiser at Alabama and generally kept Tua Tagovailoa upright in the pocket. Adding a lineman to a young offense in Arizona will continue to build a great future for Kliff Kingsbury's offense.
9- Jacksonville Jaguars, Isaiah Simmons, Linebacker/Safety, Clemson
With the Jaguars' cap situation being in shambles, and the uncertainty in the future of linebacker Telvin Smith, the Jaguars defensive is going to get considerably worse this offseason. They are expected to lose young defensive end Yannick Ngakoue to free agency, and they don't have the money to resign anyone else. So, what better way to attempt to save your defense than adding the most versatile defender in the draft. Simmons can play both safety and linebacker, both of which will help the Jaguars defense greatly. He had 3 interceptions this past season, as well as 8 sacks in his versatile role with Clemson. If he can bring the same production from his versatile role in Jacksonville, the Jaguars defense could make a return to one of the best defenses in the league.
10- Cleveland Browns, Tristan Wirfs, Offensive Tackle, Iowa
It is safe to say the Browns did not live up to expectations this past year. They have a spectacular WR core in Odell Beckham Jr. and Jarvis Landry as well as a franchise QB in Baker Mayfield. Adding a premier o-lineman like Tristan Wirfs could help fill the void that Joe Thomas left when he retired and give Mayfield more time to find one of his premier WR. It will also allow more room for RB Nick Chubb to run free, which could make the Browns a team destined for a bounce-back season.
11- New York Jets, Jerry Jeudy, Wide Receiver, Alabama
By winning the last game of the season, the Jets put themselves out of the running for one of the top linemen. Luckily for them, there are some good linemen who are expected to fall to the second round like Mekhi Becton, Austin Jackson, and Prince Tega Wanogho. The Jets need to go offense here to help the development of QB Sam Darnold, and what better way to do that than adding the best WR in the draft, and one of the best WR to enter the draft since Julio Jones, Jeudy is an elite route runner and was one of the members of Alabama's three-headed monster at receiver. He can give the Jets some insurance if Robby Anderson leaves in free agency and give Darnold a number-one receiver for the foreseeable future. While Jets fans may want an o-lineman here, there just isn't one worth the number-11 pick, and they can always take one in the second round, or trade back up into the first round.
12- Las Vegas Raiders, CeeDee Lamb, Wide Receiver, Oklahoma
The first pick for the new Las Vegas Raiders is a big one, and one that they should be extremely happy to make. CeeDee Lamb, like Jerry Jeudy, is one of the best WR prospects in years. He was a major reason for the success of Baker Mayfield, Kyler Murray, and Jalen Hurts at Oklahoma, with his fantastic ability to dominate an opposing team. He has only gotten better as the years go on, solidifying himself as one of the best WRs in all of college football. He will be a perfect replacement to Amari Cooper, who the Raiders traded last season, and will give Derick Carr a legitimate number-one receiver to go along with Tyrell Williams and Hunter Renfrow. Not many people expect Lamb to fall this far, so if he does, expect the Raiders to jump all over the opportunity to draft him.
13- Indianapolis Colts, Tee Higgins, Wide Receiver, Clemson
Three straight WRs. It is safe to say that T.Y. Hilton cannot do it alone for the Colts. Even with the emergence of Parris Campbell, the Colts still need receiver help, as Hilton is showing signs of his increasing age. Tee Higgins is a QB's dream. He is a tall, physical receiver with decent, but not impressive speed. Standing 6'4", speed isn't a game changer anyway, as he is able to go up and make some tough catches against some of the best corners in college football. He had almost 1,200 yards receiving this season, to go along with 13 TDs. He is a gamechanger and will certainly give Jacoby Brissett another option to go along with Hilton and Campbell.
14- Tampa Bay Buccaneers, Grant Delpit, Safety, LSU
It's simple. The Buccaneers have one of the worst secondaries in the league. While they could go cornerback here, Delpit is the best secondary player available. Coming out of a college that has produced the likes of Jamal Adams, Tyrann Mathieu, and Patrick Peterson, it is obvious that Delpit has been coached by some of the best. He also has the talent to be a top-five pick, but he had a disappointing 2019 season, which hurt his draft stock. But to say that this would be a reach is just plain wrong. Delpit will help to lead the Buccaneers' secondary into better times and could turn the overall defense around.
15- Denver Broncos, Henry Ruggs III, Wide Receiver, Alabama
The second member of Alabama's three headed monster. Ruggs is a speedster; there is no doubt about it. He will likely run one of, if not the fastest, 40-yard dash at the combine. Though he lacks strength, he is still listed at 6'0", and has the speed that allows strength to not become a factor. He is very similar to DeSean Jackson, and he will allow the Broncos to give Drew Lock a weapon to line up alongside Courtland Sutton.
16- Atlanta Falcons, AJ Epenesa, EDGE Rusher, Iowa
Another no brainer for the Falcons. Epenesa was projected to go as high as 11 to the Jets, but since there are so many offensive-needy teams in the top 15, he is able to fall all the way to 16, to a Falcons team that needs help of defense. He is a mammoth of a man, at 6'6", 280 pounds, he is a rusher who uses both speed and power to get to the QB and stop the run. The Falcons have a need off the edge with Vic Beasley entering free agency. To have a combination of AJ Epenesa and Tak McKinely is something that should excite Falcon fans for years to come.
17- Dallas Cowboys, Kristian Fulton, Cornerback, LSU
The first cornerback off the board. Fulton had a very good season up until the national championship game where he faced Clemson studs Tee Higgins and Justyn Ross. With the Cowboys expected to lose star cornerback Byron Jones to free agency, there is a big need in the secondary, and Fulton is the best player available to fill that void. The Cowboys' secondary needs a lot of work, and Kristian Fulton would be a great start to rebuilding that secondary.
18- Miami Dolphins (via Pittsburgh Steelers), Javon Kinlaw, Defensive Lineman, South Carolina
The Dolphins have a need at virtually every position, so, if that is the case, you take the best player available. Kinlaw is that guy and would pair nicely with Christian Wilkins as the young members of the Dolphins' defense. He knows how to get in the backfield, as in 2019, he recorded 6 sacks and 6 TFLs. The Dolphins are going to need to be in the backfield often in the AFC East, as both Sam Darnold and Josh Allen are mobile QBs and don't do well when they are under pressure, so grabbing Kinlaw here should be a no brainer and a steal for the Dolphins.
19- Las Vegas Raiders (via Chicago Bears), CJ Henderson, Cornerback, Florida
The second pick for the Las Vegas Raiders, and piece of the Khalil Mack trade, is Florida corner CJ Henderson. The Raiders are in grave need of secondary help after trading Gareon Conley. They drafted safety Jonathan Abram in the first round last year, but he went down with an injury and left the Raiders secondary helpless. Adding Henderson can add some help to a weak secondary in hopes of turning the Raiders' fortunes around.
20- Jacksonville Jaguars (via LA Rams), Laviska Shenault, Wide Receiver, Colorado
The Jaguars have a need at wide receiver, but I do not think it is big enough to take a WR at pick nine. Luckily for the Jaguars, they also have the 20th pick and are in one of the deepest Wide Receiver class in recent memory, and Laviska Shenault is falling right into their lap. Shenault is a big WR who makes things happen when the ball is in his hand. At Colorado, he often lined up as a running back just so they could get the ball in his hands. Adding an explosive, versatile player to go along with DJ Chark and Dede Westbrook is just what the Jaguars need for Nick Foles and Gardner Minshew to succeed.
21-Philadelphia Eagles, D'Andre Swift, Running Back, Georgia
The Eagles have huge needs at WR and CB as well, but with the top WRs and CBs off the board, the Eagles must address a need they have had for years. They have not had an elite running back since DeMarco Murray and LeSean McCoy were members of the team. Adding D'Andre Swift will allow the Eagles to get a much-needed offensive weapon for Carson Wentz to rely on. The Eagles have a lot of needs this offseason they must address, but running back is the easiest need to fill here.
22- Buffalo Bills, K'Lavon Chaisson, EDGE Rusher, LSU
Another LSU player. The Bills have needs at WR as well, but again, all the top WRs are already gone. This leaves Chaisson, a very good edge rusher, a need the Bills have to pair with interior defensive lineman Ed Oliver. Chaisson may not fall this far, so if he does, the Bills should jump all over it to infuse some youth into an aging defense. Chaisson had 6.5 sacks last season to go along with 13.5 TFLs and a forced fumble. Bringing this to Buffalo can make the Bills a contender for the AFC East title, as Tom Brady's future with the Patriots is up in the air.
3- New England Patriots, Jordan Love, Quarterback, Utah State
The big pick. This is the pick that is solidifying the idea that the Patriots are going to need to find a Tom Brady replacement. Brady had one of his worst years in his career last season. He did not play well against the Titans' weak defense in the playoffs, which ended the Patriots' season. The time to move on is coming, and Jordan Love is the replacement. Coming out of Utah State, he threw for 3,400 years this season with 20 TDs. He does have a bit of a turnover problem, as he threw 17 INTs this season, but a year behind Brady and coaching by Bill Belichick, Love could be the successor in New England. It is a similar script Patrick Mahomes went through in Kansas City, and we all know how that turned out.
24- New Orleans Saints, Kenneth Murray, Linebacker, Oklahoma
With Drew Brees' future up in the air, the Saints could go Jake Fromm here, but I believe the Saints believe in Teddy Bridgewater and Taysom Hill as replacements. So the Saints go to the next biggest need with Kenneth Murray. Murray fills a need on a defense that has lacked an elite linebacker, really since Jonathan Vilma was still playing. Murray will give the Saints a superb tackler. He had 102 in 2019 and 155 in 2018  as well as a good linebacker in coverage, where he had 4 pass deflections this year. He will give the Saints a leader on defense to go along with a great secondary and D-line, and he will give them a boost for their weak linebackers.
25- Minnesota Vikings, Trevon Diggs, Cornerback, Alabama
The Vikings have a need at corner due to the ultimate decline of once shutdown cornerback Xavier Rhodes. That leaves Trevon Diggs and Paulson Adebo as the best available players. But what ultimately decides the pick here is the fact that Trevon Diggs is the brother of Vikings Wide Receiver Stefon Diggs. You can imagine that Stefon will be in the Vikings' ear about taking his brother, and if it comes down to either Trevon Diggs or Adebo, the Vikings will surely go with Diggs in order to keep his star wide receiver brother happy with the organization.
26- Miami Dolphins (via Houston Texans), Jonathan Taylor, Runningback, Wisconsin
The Dolphins have gone best player available with their first two picks. Now it is time to address major needs. The Dolphins run game was easily the worst in the league last season as they never were able to establish a regular starter. So, to fill that, bring in Jonathan Taylor. Taylor has had an illustrious career at Wisconsin, rushing for 6,174 yards in his three years at the school, to go along with his 50 TDs on the ground. These are outstanding numbers for a running back, so the Dolphins have got to go this route here to give their offense more dimension. By making this pick, the Dolphins have completely remade their future offense in a few hours, as Tagovailoa and Taylor could be one of the NFL's best duos for years to come.
27- Seattle Seahawks, Yetur Gross-Matos, EDGE Rusher, Penn State
Yetur Gross-Matos is the best player left available for the Seahawks, and he also fills a need. He can be a perfect pair to go along with Jadaveon Clowney, and, if Clowney leaves in free agency, he could be his long-term replacement. Gross-Matos had 9 sacks and 40 tackles this season at Penn State.
28- Baltimore Ravens, Paulson Adebo, Cornerback, Stanford
The Ravens are a team with very few needs. They have a fantastic offensive line; and young, up-and-coming offensive core; and a great defensive line and linebacker core. Adding to a secondary that is by no means bad, but weaker than the rest of the team, would be a good idea for the Ravens here. Pairing Marlon Humphrey with Paulson Adebo could be the icing on the cake for the Ravens, and it could just lead to a Super Bowl victory.
29- Tennessee Titans, Mekhi Becton, Offensive Lineman, Louisville
I'm not buying the "Mekhi Becton is going top 15" spin that has been rumbling over the past few weeks. But, I do believe he is a solid first-round pick. Becton is a real-life giant, standing 6'7" tall and weighing just under 370 pounds, but he is surprisingly nimble on his feet for such a big guy. The Titans are going to want to continue to protect Ryan Tannehill and Derrick Henry and also will have a hole on the o-line with the potential departure of Jack Conklin. Becton would quickly fill this hole and give the Titans someone with the potential to become a force up front for years to come. However, if a team wanted to trade back into the first round, here would be the pick to do it for an o-lineman or WR, which makes this pick very interesting.
30- Green Bay Packers, Brandon Aiyuk, Wide Receiver, Arizona State
The same story, new year. The Packers need to get more weapons alongside Devante Adams. They finally have someone at RB as Aaron Jones has solidified himself as a top-tier RB in the league; all they have left to do is get a number-two WR. Brandon Aiyuk would fit the bill, as he has the potential to be a lower-end wide receiver one on some teams. Pairing him with Aaron Rodgers and being able to play alongside Adams could mean he gets more looks and develops quicker, which would be a positive for both parties. It would put Aiyuk in the best position possible while also giving Aaron Rodgers another weapon as he looks to win another  Super Bowl.
31- San Francisco 49ers, Xavier McKinney, Safety, Alabama
So close. The 49ers managed to blow a Super Bowl victory this year, showing the dents that a supposedly unstoppable defense has. So, why not get even better on defense. If there is a weak spot on the defense for the Niners, it's the safeties, and Xavier McKinney could solve these problems.He has 3 INTs and 5 pass deflections last year at Alabama, while also having 3 sacks and 95 tackles. He would give the niners even more strength on what is already the best defense in the league, giving the Niners a prime opportunity to run it back in the Super Bowl in 2021.
32- Kansas City Chiefs, J.K Dobbins, Runningback, Ohio State
Despite the incredible performance from Damien Williams in the Super Bowl, it is obvious the Chiefs need to upgrade the running back position. JK Dobbins will give the Chiefs two very formidable options at RB, all while getting a player with superstar potential. Dobbins was a superstar at Ohio State, and with a supporting cast around him like the Chiefs, he should be able to continue to thrive as he makes the transition to the NFL.