A Long-awaited Return Home
When an airport shuts down today, it is not usually for something good. So, when people see or hear that an airport has been shut down, they expect the worst. The uplifting story about Roy Knight Jr., a member of the U.S. Air Force, and his son proves otherwise. This past summer, Roy Knight Jr.'s body was found 45 years after he was pronounced dead. Many military members have died in combat but have not been brought home because their remains were not found. New technology and developments have allowed for the bodies of more and more veterans to be brought home years later for a proper burial surrounded by their families. Bryan Knight, one of Roy's three children, followed in his father's footsteps and became a pilot. This gave him the opportunity to fly his father's remains home. Colonel Roy Knight, Jr. received the ultimate hero's welcome on August 9 when, for two hours, Love Field Airport, in Dallas, Texas, stood still.
Fifty-two years of hoping, wishing, and praying. Colonel Roy Knight, Jr. left home to go to the Air Force in 1967 and did not return for 52 years. His death shook the lives of his family and friends, including his son Bryan Knight, who was only five at the time of his father's death. Texas Monthly (texasmonthly.com) tells the story of how Colonel Roy Knight was brought to Dallas Love Field airport in January of 1967 and was sent to Udorn Royal Thai Air Force Base to be a fighter pilot for the United States Air Force. Like many others, he was shot down over enemy territory in Laos and was declared missing in action. Bryan Knight and his family went years without hearing anything but always hoping for the best. They hoped that their loved one was found and alive. Sadly, hopes were crushed in 1974 when Colonel Roy Knight, Jr. was declared killed in action. Bryan Knight, when interviewed by Texas Monthly, explained, "When [Roy] was declared deceased, we couldn't have that hope anymore, and we had to move on without those answers." There were no answers for another 45 years.
It all started with a fragment of a helmet. Ally Campo, a forensic archaeologist, was using a metal detector to search the ground in Houaphan Province, in Laos People's Democratic Republic. This was the second time the Defense POW/MIA Accounting Agency (DPPA) was looking for Roy Knight, Jr., the article "How Scientist-Detectives' Search Brought Home Remains of Vietnam War Pilot to Texas" from Times Record News (timesrecordnews.com) explains. Language barriers and a disheveled landscape posed many challenges for the search team. After clearing the area, the search team's metal detectors found a piece of a helmet. The DPAA makes it a goal to bring deceased U.S. troops home and make sure they have a proper burial. After the helmet was found, the DPPA planned a search to see if it could discover more. Team members separated the land into different sections and started digging deeply in each area; eventually, 13 teeth were found. Dr. Calvin Shiroma, a retired service member and a general dentist, is now a forensic odontologist. Times Record News explains how Dr. Shiroma compared the 17 tooth fragments found to Roy Knight's dental record. The team successfully linked Knight to the teeth fragments and alerted his family.
Bryan Knight was ecstatic and emotional when he found out his father had been found. He knew he wanted to be a part of his father's return to America. Bryan, now a commercial pilot for Southwest Airlines, asked his supervisors if he could be the one to fly his father home. He was told yes. August 9, 2019, was an emotional day at Dallas Love Airport. Onlookers, whether they knew Colonel Knight or not, were touched. People in the airport were not aware of what was going on when they arrived. At first, passengers' flights were delayed travel and schedules were impaired. When passengers found out why the airport had been shut down, many stopped what they were doing and watched the scene. Bryan Knight told Texas Monthly how he felt when flying his father home: "[I] felt calm throughout the flight, until turning into the gate in Dallas. When I saw all of those faces quietly standing, waiting for us, for my dad, it took my breath away." The veteran received a water salute and a funeral a few days later. This story spread all over the Internet and gave hope to many people who are wishing to get the same call the Knight Family did.
About the Writer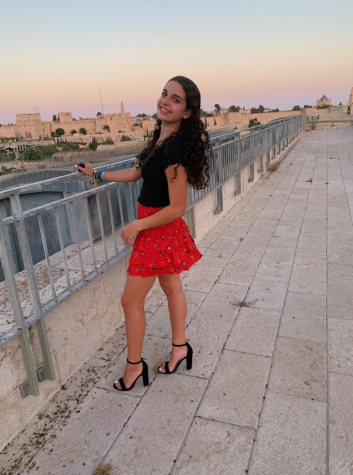 Sophie Ward, Editor
I am Sophie Ward, and I am a News editor for Horizon. I am a member of the Class of 2022. I love playing tennis and lacrosse. I also enjoy spending time...