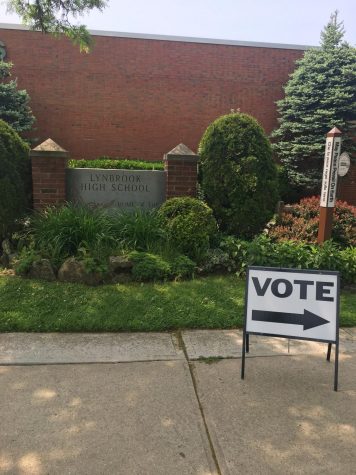 Andie Glanzer
After being approved by the Board of Education (BOE) on Wednesday, Mar. 13, the proposed $88 million 2019-2020 school budget was officially approved by the Lynbrook School District voters on Thursday, May 21. The record-high budget was passed with 1,318 votes in favor and 500 in opposition.  
With the budget being $2.8 million larger than last year's plan, advancements are expected to be seen in the upcoming school year. All of the district's schools will receive minor renovations and course upgrades.
The plan includes funding for a new teacher at the district's Kindergarten Center as well as the construction of an additional room to accommodate the 19 extra students that have enrolled in next year's class.
At the elementary school level, the Voyager program will see changes and an "enrichment for all model" will be implemented. A pull-out program will also be created for eligible fourth and fifth graders, which will meet at a transformed "modern flexible learning space" that will be built at West End Elementary School. Literacy instruction will also be augmented with the introduction of the Teachers' College Reading and Writing Program. 
The middle schools will also see the induction of a formal college reading and writing program as well as implementation of the Fountas and Pinell: Leveled Literacy Intervention to aid students with improving their reading skills.
At the high school specifically, the women's faculty bathroom will be replaced, renovations will be made in the hallway connecting the cafeteria and the library, ongoing projects will be continued, and the library will receive what Principal Joe Rainis described as a "significant face lift."  Additionally, a SUPA Forensic Science course—sponsored by Syracuse University—will be offered, and an old course will see some revision; contemporary works, both fiction and non-fiction, will be introduced to English 12R classes.
To fund the budget's 3.3 percent increase, the district will collect $68.86 million from taxpayers, bringing a 2.26 percent tax levy. According to Assistant Superintendent for Finance, Operations, and Information Systems Dr. Paul Lynch, "The average taxpayer should see an increase of about $216." But of course, exact numbers will not be released until after September. "The important thing to note is that Nassau County is in control of several factors that affect actual taxes paid, and those values are not released until September, so this is a preliminary number based on what we know from last year," Lynch explained. Despite the rise in taxes, some residents are glad to see the budget's growth. "I think the new budget is great. Anything to maintain the level of excellency of our district's schools is good," commented resident and AP Psychology and U.S. History Teacher John Cornicello.
This year's budget passed with an overwhelming majority of 72.5%. District staff are optimistic that the budget's support directly correlates with support for the Lynbrook schools. "We are very appreciative that we have a community that is so supportive of its schools," Lynch explained. "It is tremendous that the citizens of the community want to continue to support the Lynbrook Public Schools, which makes it incumbent to me and the rest of the high school's leaders and staff do the very best job we can," added Rainis. Rainis is confident that the new upgrades will indeed enable the district's educators to do the very best job they can.