Exploring the Science Behind Six Flags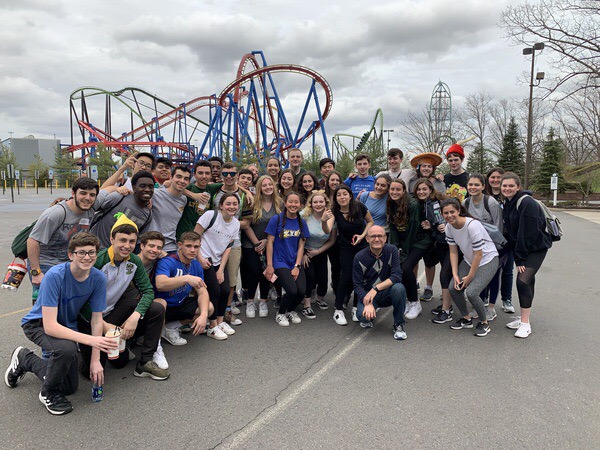 Taking a much-needed break from their intense in-class workload, students in the AP Physics 1 and 2 classes, along with students in the engineering class, visited Six Flags Great Adventure in Jackson, New Jersey, on Friday, Apr. 12. The field trip was long-awaited, with the excitement building up for weeks. When the day finally came, students began the four-hour bus ride with a showing of the movie School of Rock, courtesy of Physics and Engineering Teacher Bardhyl Fejzo. When the students finally arrived at the amusement park, they were all able to begin their day full of roller coaster rides and, most importantly, physics studies.
As soon as the students entered the gates of Six Flags, they immediately dispersed towards their rides of choice. Junior Maria Russotti described this moment as "genuinely exciting, especially due to the fact that I knew I was going to be hanging out with my friends all day." Junior Arpie Bakhshian shared this feeling, stating how "going on the roller coasters with my friends was a true bonding experience that I will never forget." Some of the most popular rides among the students were Nitro, El Toro, Superman: Ultimate Flight, and the infamous Kingda Ka. "Kingda Ka was so exhilarating that I was determined to go on it twice!" exclaimed Russotti. 
But what is a trip to Six Flags without some physics? While analyzing and riding the roller coasters, students were able to explore the effects of gravity, velocity, centripetal force, and many other important physics concepts in action. This was one of the main goals of the trip for Fejzo. When asked what he had hoped students had gained from the field trip, Fejzo said, "I hope they saw the application of physics, and I hope that they liked it."
The trip took place on Six Flags' annual Physics Day, where access to the park was restricted to only students taking classes related to physics. This allowed park goers to relate to one another, being that they were all there for the same reason: to apply physics and biology to real life. LHS students particularly appreciated this exclusiveness: "It was very interesting seeing other students analyzing the science behind the rides. I also liked the fact that everyone was attending for the same purpose," added Bakhshian.
Ultimately, the field trip to Six Flags Great Adventure was a major success socially, as well as educationally. As students headed back on a returning four-hour-long bus ride, they were able to reflect on their fun-filled day while enjoying yet another viewing of School of Rock. To summarize the trip, junior Sam Caceres explained, "The Six Flags Trip was the perfect opportunity to take a break from our traditional classroom setting. It gave all of us the chance to relax, bond, learn, and just simply have fun. I hope the physics and engineering classes continue to go on this trip in years to come."