Freshman Spotlight: Kyla Nembach
Three varsity sports and all honors classes, yes, you read that right. Freshman Kyla Nembach has not only been on three varsity sports teams this year, but she also takes all honors classes. Managing schoolwork, sports, and extracurriculars is tough. Having good time management is an important skill for all high school students to have. Nembach says her trick is to "organize [her] work and find time to study after practices every day." Many know Nembach because of her amazing basketball season, but she was also a part of the varsity swim team in the fall and the varsity lacrosse team in the spring.
Nembach started off the year on the varsity swim team. She swam in many different events and had remarkable times for all of them. She started off strong; her 100-yard butterfly was at 1:28.87, and her 200-yard IM was at 3:03.65. She achieved her best time for the 50-yard freestyle, 28.91 seconds, against Oceanside. She also swam the 500-yard freestyle in 6:48.86 against Jericho. Nembach's impressive first season on the varsity swim team is very promising for a bright future ahead. Nembach is an outstanding athlete who is loved by her teammates. Erin Quinlan, a sophomore on the varsity swim team, commented, "[Kyla] is really positive and a good teammate. She is a really hard worker." This is apparent because Nembach did not just play one more varsity sport for the rest of the year, she played two.
Nembach explained that her favorite sport is basketball. "I have played it my whole life. I have had a lot of experience playing it," she said. Nembach started playing basketball in first grade, and all her hard work has paid off since then. This season, Nembach was the only freshman on the varsity basketball team, and she did not just rise to the standards, she raised them. Nembach averaged over seven points per game and made fifteen 3-pointers this season. Nembach's two best games were against Valley Stream South and North Shore. She scored fourteen points and had three rebounds against Valley Stream South, and she scored fourteen points against North Shore. Senior Madison Barroso's favorite part about playing with Nembach was that "she was a great teammate and always found the open man. She was never selfish with the ball." Barroso also explained, "[Kyla] was a major asset when it came to driving the ball and gaining fouls in the paint." Barroso believed that Nembach contributed to the atmosphere of the team by "always smiling and keeping everything positive. Kyla's a cutie." Barroso, along with the rest of the team, loved playing with Nembach and cannot wait to see what she does in the future.
Nembach did not take a season off, and she finished the year on the varsity lacrosse team. She was one of three freshmen to make the team. In her first game on the varsity team, Nembach scored a goal, and she added another goal later in the season. Freshman Grace Bodian enjoyed being teammates with Nembach and said she "added energy and excitement [to the atmosphere of the team]." Bodian has played lacrosse with Nembach for a long time and commented, "We work well together."
Nembach played amazingly on all three teams and did very well in school. She enjoyed every season and said, "The girls on all the teams were very welcoming. They made me feel comfortable and I loved meeting new people and making new friends." Nembach was loved by all and, as stated by Quinlan, "[Kyla] is a great teammate and always makes people happy." Nembach never failed to amaze in her first year of being a varsity athlete, and her future is very bright.
About the Contributor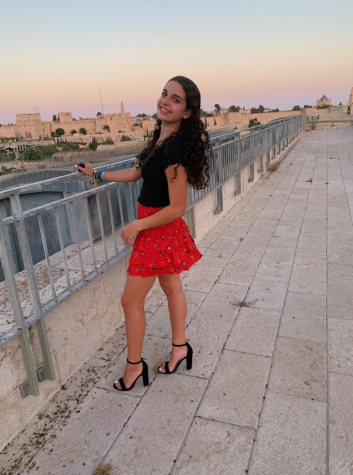 Sophie Ward, Editor
I am Sophie Ward, and I am a News editor for Horizon. I am a member of the Class of 2022. I love playing tennis and lacrosse. I also enjoy spending time...