The Life of a High School Hockey Star
Hang on for a minute...we're trying to find some more stories you might like.
I'm a high school dropout. Well, sort of. This past October, I made the decision to leave Lynbrook High School for my junior year to live and play hockey in New Jersey. It was a tough decision leaving the school and town I grew up in, but it ultimately was for the best.
Leaving home was a weird transition, but my circumstances were pretty special. I left my house and my parents for a mansion. Next door to the house was a miniature ice rink with a gym in it that was available for our use whenever we wanted. I lived with eleven of my teammates, and the house was run by two 30-year-old men who have played hockey their whole lives. The other kids in the house were from all over the place. My roommate was from Sweden, the guy down the hall was from Canada, and the two roommates downstairs were from North Carolina and Florida.
Days in the house were way different than anything I was used to. Wake up was at 9:00 a.m., but I would get up at 7:00 a.m. and go over to the rink next door and skate. Following my skate, I would shower, make some breakfast, and then head to school…which was in the living room. Online school is way different than people think. I took six classes this year: AP English Literature and Composition, AP US History, honors physics, precalculus, psychology, and creative writing. The teacher creates a study sheet of about 18-20 pages that I read, and then I take a couple of quizzes and write some papers and move on the next unit. While I admit that online school was not very difficult, I was putting in just as much, if not more work, than when I was at LHS. I will also admit that I am still taking my classes even though I should be done, as I started watching The Office at the wrong time, and that took up a lot of my time at the house. Other than school, we had workouts every day from at 2:30-3:30 p.m. and practice Tuesday, Wednesday, and Thursday from 7:30-9:00 p.m. Mix that in with lunch, dinner, and the time it took to get to and from the rink, and I would consider it a pretty busy, but fun day.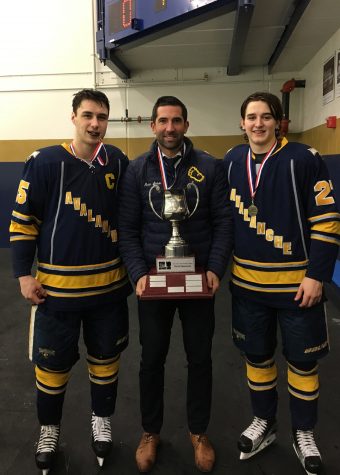 While there were a lot of positives at the house, it came with its flaws, most specifically the social life. I did have the eleven other guys in the house, but since none of us went to real school, all we really had was each other. Getting out of the house was a treat, and going to a local Rite Aid or the mall felt like a vacation. I loved being able to come home on the week-ends and hang out with my family and some friends from school. The social aspect was not ideal, but it was still a great time at the house.
I was captain for the North Jersey Avalanche U16 team, which was ranked fifth in the league. We were knocked out in the round robin of the National Championships, finishing with an overall record of 63-13-1. In 77 games, I finished with 51 goals and 55 assists to lead the team with 106 points. It was a great year and a lot of fun, filled with lots of travelling. From September to April, my team played in New York, New Jersey, Connecticut, Massachusetts, Pennsylvania, New Hampshire, Michigan, Minnesota, and Arizona. I love travelling, so it was cool to be able to go to these different places. All the hockey and travelling definitely made me tired, but I loved every minute of it.
As for my future, I am not sure what it holds. With respect to college, my top-three choices right now are Cornell University, Union College, and Princeton University. I am hoping to commit to one of these schools by the end of the summer. As for next year, I am hoping to play in the United States Hockey League with the Chicago Steel. If that does not work out, I will either play in Massachusetts or New Jersey. There is a slight chance I may return to LHS for my senior year. If I do not return, however, I would like to thank everyone in Lynbrook for shaping me into the person I am. The people I have met and relationships I have made at LHS are something I will cherish and remember forever.