Why Nike's Kaepernick Campaign Is Misguided
Hang on for a minute...we're trying to find some more stories you might like.
The then-star quarterback of the San Francisco 49ers, Colin Kaepernick, decided to take a stand against police brutality — or more appropriately stated, a knee, on September 1, 2016. Kaepernick is widely known for his protests against police brutality ever since that first game when he chose to kneel during the country's national anthem. Now, two years later, he has become the newest face of Nike. Is it appropriate for an athletic clothing and shoe company to be take such a public political stance? Is Kaepernick really the role model that we as consumers should be looking up to?
While police brutality is certainly a heated and current issue, many are angered by the player's choice of venue and timing for his protests. Athletes, celebrities, and politicians including Shaquille O'Neill, Kate Upton, Chris Pratt, and Dr. Ben Carson have expressed disagreement with Kaepernick's actions. These stars have made a point of suggesting that there are alternative ways to make a change in something that you believe is unjust. I completely agree.
There is no denying that police brutality should not be ignored or overlooked; it is an ongoing issue in America that needs to be addressed. Kaepernick has stated, "I am not going to stand up to show pride in a flag for a country that oppresses black people and people of color." However, kneeling during the national anthem creates no solution to the problem. Rather, it disrespects America, those who have fought and died in our nation's military, and the vast majority of police who are good-hearted people with good intentions.
As a celebrity, Kaepernick has an advantage over most people in his ability to pull attention towards an issue and to spark reform. However, there are other ways that he could have improved lives in the black community and started a protest against police cruelty without offending millions. For example, Oscar winning actor Lou Gossett, founded the Eracism Foundation in 2006. According to the website, its mission is to "eradicate the systemic impacts of all forms of racism by providing programs that foster cultural diversity, historical enrichment, education and anti-violence." Former President Barack Obama has come forward as one of the foundations leading contributors. Gossett and Obama alike are both strong figures in Hollywood, politics, and the black community. Had Kaepernick followed in Gossett and Obama's example, he might have made a more positive impact on the issue than he has achieved.
Another downfall to the "take a knee" approach to eradicate police brutality is the impression it gives to current military and veterans. Millions of courageous men and women fight for our country's freedom day in and day out. As per tradition, all sporting events commence with the singing of the national anthem. Not only is the anthem a chance to show respect for the flag, but it is also a time to express gratitude for the armed services and be united as a nation. Kneeling and refusing to recite the anthem shows disrespect for the military. Some veterans even feel that the protests show ignorance and misguidance. Military veteran, Michael Rodriguez stated, "Today, people don't even know why they're kneeling. It's being politicized, taken so many different directions, that his message kind of got lost. Now he's created a divisive culture within this country." Another veteran, Mia Rodriguez, commented, "He is protesting the flag, which symbolizes the country—which actually ironically gives him the right to protest… He would have had a bigger impact, and a much more positive answer from the public (if he would have chosen a way of educating people, actually putting out information and using his time in the press conference, instead of on the field during the national anthem)."
Last year on the anniversary of the 9/11 terrorist attacks, players from the Seahawks, Dolphins, Chiefs, and Patriots followed in Kaepernick's footsteps by kneeling during the national anthem. On a day devoted to mourning such a tragedy, we should take time to honor those who lost their lives in the attack: victims, fire fighters, policemen and women…the list continues. However, some NFL players decided it was more important to take a stance which disrespected the flag. Although the players' motivation was not to disrespect the lives lost on 9/11, many spectators could not help but feel that this was the case.
Less than a week following the start of his protests, photos flooded the Internet showing a vengeful Kaepernick wearing socks depicting police officers as pigs. Yet another sign of disrespect towards police officers. While the "take a knee" protests are meant to make a statement about police brutality, the socks Kaepernick wore illustrate all police to be pigs. However, the majority of police are American heroes who risk their lives to keep our communities safe, not evil "pigs" who are ostracizing and murdering African Americans. Kaepernick responded to the criticism he received by stating, "I wore these socks in the past because the rogue cops that are allowed to hold positions in police departments not only put the community in danger, but also put the cops that have the right intentions in danger by creating an environment of tension and mistrust." However, in contrast to his statement, his socks paint all officers to be "rogue," not just the select few.
Now that Nike has released an advertisement using Kaepernick as a sponsor, many do not know how to react. The ad presents a photo of Kaepernick's face with the quote, "Believe in something. Even if it means sacrificing everything." If Kaepernick shows so much pride in sacrifice, why does he choose to protest against those who sacrifice their lives for his freedom? He rallies against the country that gives him the liberty to do exactly what he pleases. However, he uses his liberty misguidedly, and advocates for the black community in poor taste. Kaepernick does not represent the strong role model whom Nike should promote.

About the Writer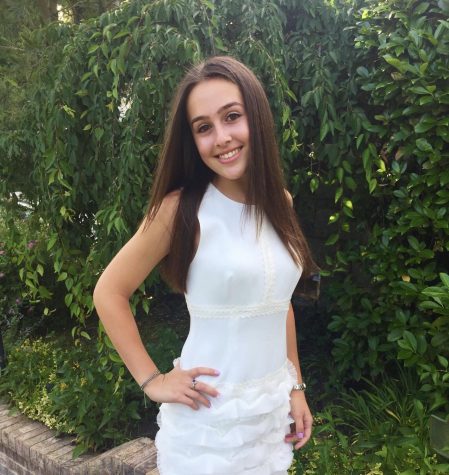 Julia Swerdin, Staff



Hi, I am a member of the class of 2022. I am on the school kickline team, and I love to read and write.